Top Three Banana Cookbook Reviews
25 Aug 2011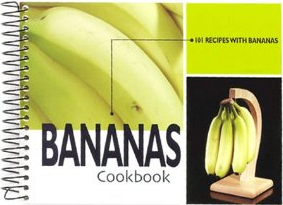 With these top three banana cookbooks, discover mouth-watering recipes that feature bananas in salads, meat and seafood dishes, desserts, drinks, and even salsas and chutneys. All of these banana cookbooks contain easy-to-make recipes.
1. Bananas Cookbook: 101 Recipes with Bananas – G&R Publishing
You will be a little taken aback by the tiny size of this book. It's pretty small and spiral bound but for just $4.50 this book is worth every penny. It has some really fun, entertaining recipes and there are a 101 of them so you are not going to get bored very easily. Every recipe is made with the title ingredient.
The drawback of this banana cookbook is that a large part of the recipes is muffins/bread/cake related, so the non-dessert variety is a little restricted. The instructions are a little concise and there are no illustrations. However, you will savor every dish you try and everything is guaranteed to turn out yummy.
2. The Banana Lover's Cookbook – Carol Lindquist
The author has created recipes using bananas for breakfast and snacks, appetizers, salads, sandwiches, entrees, and, of course, desserts. This book is packed with unique recipes, which use banana in myriad ways. You will learn how to make dishes like Banana Gazpacho, Banana Rumaki, banana tomato chutney, and banana ginger wafers.  Lindquist's will help the reader understand the  differences between under-ripe, green or green-tipped bananas, firm golden yellow bananas, and brown, flecked or fully ripe bananas.  You will learn that there are more than 450 varieties of bananas out there. Quite surprising right? This is a good banana cookbook and you are sure to enjoy Carol Lindquists's recipes.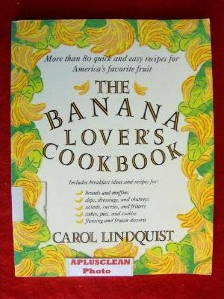 3. Banana Cookbook – Reba E. Shephard
This 83-page soft cover banana cookbook is not easily available online. You can buy it on echobooks.org for $13.50. Reba Shephard, with her terrific experience of cooking, has presented to the readers, a superbly varied range of recipes in this exceptional cookbook. Bananas are available round the year and you can enjoy these recipes anytime.  So why not, with the help of the Banana Cookbook, find out some new and perhaps unexpected dishes to surprise your family and friends.  You will find recipes for breakfast, main dishes, side dishes, salads, puddings, drinks, and other odds and ends. The author has also provided a measurements and conversions table to help the reader out.  
If you are a banana lover, you probably cannot imagine a world without them. These top three banana cookbooks teach you how to bring them to your table with style. All of the recipes in these cookbooks are uncomplicated and yield magnificent results. 
Image credit – amazon.com
Top Three Banana Cookbook Reviews