Top Three Chili Cookbook Reviews
25 Aug 2011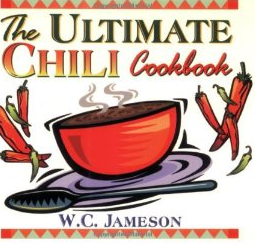 If you are looking for some of the best chili recipes out there you need to consider these top three chili cookbooks. They have some really mouth watering recipes along with fantastic illustrations. Here is a review on the best three.
1.The Ultimate Chili Cookbook – W.C. Jameson
This cookbook is a great one to refer to when you want to make chili a little differently. The recipes in the book cover a wide range of chilis and you will have a great time experimenting in the kitchen. It also includes intriguing folklore and over 135 recipes. For any cook and especially anyone who enjoys making a good pot chili, this book is a great buy.
The downside to this book is that it is quite expensive. The cookbook can be found in paperback for $133 but if you do have a kindle, this book can be purchased for a little under $12. You would lose out on some of the great colored photographs but for the price difference, you may not care.
2. Killer Chili: Savory Recipes from North America's Favorite Chili Restaurants – Stephanie Anderson
Killer Chili serves up the hottest chili recipes from 50 renowned restaurants in the US and Canada. This latest lip smacking volume of the Killer series follows right after the popular Killer Ribs and Killer Pies, and offers the best bowl-filling fare in North America. Filled with aromatic secret formulas, including a beer-laden chorizo sausage chili, an alluring Cape Cod seafood assortment, a meatless Southwestern vegetable chili, and a rosemary-flavored Tuscan version, this cookbook has old favorites, unusual new twists, and everything in between to gratify any craving for a steaming bowl of chili.
So be advised to get this book only if you like your food spicy. If you don't like the heat, be prepared to dial down the chili powder and pepper portions.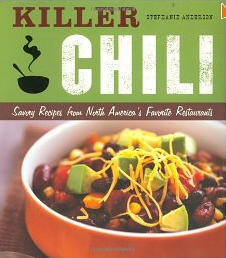 3. Chili Madness: Second Edition – Jane Butel
This cookbook has been a bestseller with over 30,000 in print. Comprehensively revised, updated, and lengthened, the book will create a whole new generation of chili lovers. Of the 160-plus recipes, more than 130 are spanking new. Here are standard dishes, including Reno Red and Navajo Green and Buzzard's Breath Chili, as well as some modern ones like Moroccan Chili and White Lobster Chili. Delicious desserts such as Double Chocolate Farmer's Cakes offer the ideal sweet ending.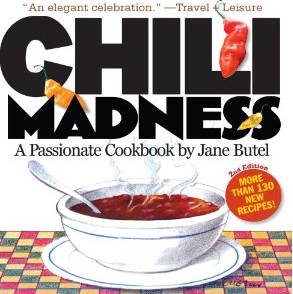 Buy all of these cookbooks online on amazon.com and have fun cooking!
Image credit – amazon.com
Top Three Chili Cookbook Reviews