Top Three Crab Cookbook Reviews
23 Aug 2011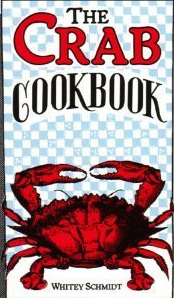 Looking for a new crab cookbook to add to your collection? If yes, you have arrived at the right place. Here are reviews of the top three crab cookbooks available today. These books will show you wondrous ways on what you can do with that sweet and tender meat desired by seafood lovers across the country.
1. The Crab Cookbook - Whitey Schmidt
The crab cookbook is a marvelous collection of hundreds of enticing and elegant ways to prepare crab. I you are a crab love, this book is ideal for you. Full chapters dedicated to: Appetizers (including spreads, condiments, etc.), Crab Soups, Crab Salads, Crab Cakes, Soft Shell Crabs, Deviled Crab, and Imperial Crab. The recipes are gastronomically satisfying. The book is an assemblage of the author's favorite self-tested recipes of crab dishes from the country's finest crab chefs. Also, these recipes are pretty straightforward and easy to make.  You won't spend too much time slaving in the kitchen.
2. Crab (Northwest Homegrown Cookbook Series) – Cynthia Nims
This is an exemplary crab cookbook. If you love crab, then this book is a must have. The author has presented some mouth watering recipes followed by an attention grabbing narrative about the history of crab in the northwest.  On top of it all, it is beautifully illustrated and you will love the pictures featured in this cookbook.
This book is great for the home cook or Chef who is looking to put something special together for their next dinner party. Crab is an extremely useful book for entertaining and providing ideas for quick cooked yet impressive dishes.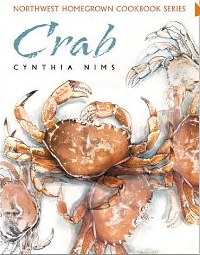 3. Crazy for Crab: Everything You Need to Know to Enjoy Fabulous Crab at Home – Fred Thompson
The author starts with a comprehensive chapter on the basics, describing every type of crab existing, how to buy it, how to clean it, and how to cook it and crack it. Then come all the superb recipes you could ever want to make with crab. Fred Thompson offers a complete guide to cooking, serving, and eating all manner of crab dishes. With twelve recipes for crab cakes alone, Thompson has more than covered the subject. Included are soup and appetizer recipes, as well as several for salads and casseroles. The level of participation and difficulty for the recipes varies from the very simple to the relatively intricate.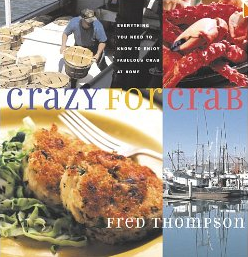 From the everyday to the sublime, these top three crab cookbooks have covered it all. Augmented with illustrations and narrative, these comprehensive cookbooks are recommended for anyone who likes these sweet gifts from the sea. Buy these books online on amazon.com
Image credit – amazon.com
Top Three Crab Cookbook Reviews