Top Three Seafood Cookbook Reviews
23 Aug 2011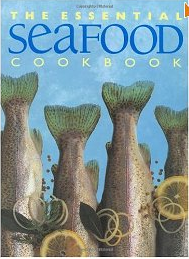 With so many seafood cookbooks out there it can be tough deciding which one might be appropriate for you. Here is a review of the top three seafood cookbooks available today. They are all great buys and you will not be sorry for investing in them.
1. The Essential Seafood Cookbook – Whitecap Books
This cookbook comes with over 600 full-color photographs - shows how fresh seafood now is valued and popular around the world. It has a ton of recipes about every living thing in the sea. There is a sea of information on techniques and ingredients and the recipes are appetizing and varied.
There is no nutritional information section in the book so if you were keen on one, you will be disappointed. Some of the ingredients needed for a few of the recipes can be a little hard to find. However, if you are a seasoned cook, simplification and substitutes should come easy to you. This is a great seafood cookbook overall.
2. Rick Stein's Complete Seafood: A Step-by-Step Reference – Rick Stein
This is definitely one of the most comprehensive, full-color seafood instructionals available, now in paperback. There are 150 delicious recipes and step-by-step instructional color photographs--it categorizes the world's seafood in a meticulous, approachable, and modern way. The book's technical illustration, which dives far beyond the usual guide to filleting, skinning, and the like, is an educational experience. The central section of the book is assigned to Stein's recipes, which vary from the simple and direct, like Baked Sea Bass with Roasted Red Pepper, Tomatoes and Anchovies, and Sautéed Soft-Shell Crabs with Garlic Butter, to the fancier, such as Fillet of Bass with Vanilla Butter Vinaigrette and Mussels en Croustade with Leeks and White Wine. Presented with ideas for using alternative fish types, the methods also help readers make sense of seafood's bounty--and to find recipes dependent on market availability.
This book intended for all cooks with more than a casual interest in seafood, is among today's finest kitchen resources. 
3. Pike Place Public Market Seafood Cookbook - Braiden Rex-Johnson
In this colorful cookbook, best-selling author Braiden Rex-Johnson shares shopping ideas, cooking methods, mail-order sources, and more than 50 recipes for fish and shellfish from the chefs, restaurateurs, and fishmongers who characterize the market community. Filled with striking, colorful photos, this cookbook is ideal for any seafood-loving soul. It features information on sustainable fisheries and preservation along with a concise history of the Pike Place Public Market. Recipes consist of Broiled Halibut with Sundried Tomato Tapenade; Balsamic Glazed Salmon; Shellfish Risotto; and such simple, flavorsome sauces as Champagne Sauce, Simple Soy Glaze, and traditional Romesco. The book seems basic enough, and refined enough, for a broad range of cooking skills.
Hope this review of the top three seafood cookbooks was helpful in narrowing down the ideal one for you. They are all available on amazon.com
Image credit – amazon.com
Top Three Seafood Cookbook Reviews