Top Three Poultry Cookbook Reviews
22 Aug 2011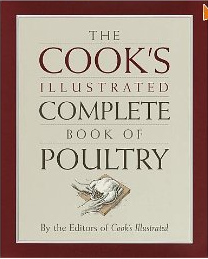 Ever get tired of cooking your standard poultry recipes? These top three poultry cookbooks are guaranteed to bring some zing back to your boring meals. Read on reviews of the top three poultry cookbooks
1. The Cook's Illustrated Complete Book of Poultry – Editors of Cook's Illustrated
Immense and authoritative, with 38 chapters comprising nearly 500 recipes and 300 illustrations, The Cook's Illustrated Complete Book of Poultry presents readers the finest methods to cook chicken, turkey, duck, goose, quail, squab, and pheasant. Nowhere can you find the volume of testing and study that you do in Cook's Illustrated. Forty turkeys roasted to find the best Thanksgiving bird. Duck prepared ten diverse ways to guarantee the crispiest skin and juiciest meat. Incalculable chickens basted and turned to verify that preheating the roasting pan is the solution to the yummiest one.
No other cookbook has taken this method to the subject. Master recipes offer all the basics to prepare poultry in fastidious styles--from fried chicken to braised quail, sautéed turkey cutlets to roasted Cornish game hens. If you cook a lot of poultry, and need some new recipes to liven up your dinners this is the book to get.
2. Empire Kosher Chicken Cookbook: 225 Easy and Elegant Recipes for Poultry and Great Side Dishes - Arthur Boehm
This book contains chapters on starters and finger foods; soups; recipes for the range, the oven, and the grill; side dishes; and chutneys, dressings, and salsas. You'll never think the same way about the kosher kitchen after cracking open this superb book. The author has drawn on a huge variety of cuisines to come up with a delectable collection of dishes. There's even a separate chapter dedicated to leftovers. As they say, you can never have too many poultry recipes. This cookbook is recommended for most collections.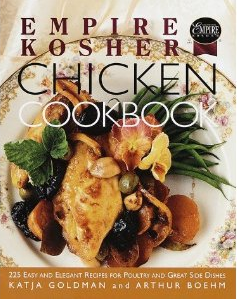 3. Williams-Sonoma The Best of the Kitchen Library: Meats & Poultry – Chuck Williams
This is a wonderful poultry cookbook. There are a bunch of recipes for poultry (primarily chicken, but some quail, duck, etc). The Williams-Sonoma publishers excel at selling pictures to the readers. Each recipe is accompanied with a stunning picture of the dish.
There are a couple of negatives to this book. Sometimes the pictures have side dishes in them that look equally appealing, but there is no recipe in the book for the side dishes (so the title is stringent: this is only meats and poultry). Also, many of the recipes are geared for grilling, so if you live in a small apartment, those recipes may not be feasible. Other than that, this book provides everything the home cook needs to make delicious, inspiring meals for friends and family.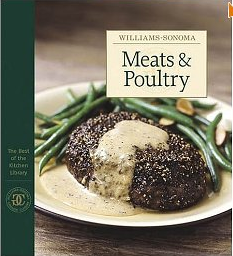 Hopefully after reading this review, you will have a better idea of which of these top three poultry cookbooks you want. You can find them all online on amazon.com
Image credit – amazon.com
Top Three Poultry Cookbook Reviews