Top Three Cheese Cookbook Reviews
19 Aug 2011
It would be hard to pick just one book out of the top three cheese cookbooks reviewed here. They are all fantastic in their own right and have some of the most delicious recipes you will ever taste.
1. The Great Big Cheese Cookbook – Running Press
This cookbook is a jewel of a collection of recipes from over 60 world-class chefs, featuring more than 300 classic and contemporary cheesy treats. Cooking with cheese comes easy if you follow the starting pages of the cookbook. It guides you through choosing, handling, storing, freezing and cutting and trimming the cheese. You are also presented with a "Perfect Pairing" guide at the end to assist with pairing cheese with recommended wines and beer. There is even a Cheese replacements guide to assist if you are in a tough spot.
This book is available in hardcover as well as on kindle format.
2. The Cheese Lover's Cookbook and Guide – Paula Lambert
 This cheese cookbook offers more than a 150 recipes. With so many cheeses in the market today, it can be hard to choose which one you want to work with. This book helps you understand cheese better by textures, taste, kind of milk used to make them and the region they come from. The author has used a basic approach to cooking and you will learn how to use the cheeses you love in a variety of different meals.
This book is really more for those who are beginners and just starting to explore the world of cheese. The recipes are simply laid out and the illustrations are great. There is a hardcover as well as a kindle edition available.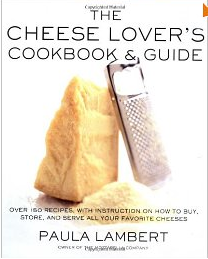 3. The Tillamook Cheese Cookbook – Kathy Holstad
With over 150 recipes warranted to make you drool, this cookbook is a long-awaited fortune. The opening material will be filled with historical photography and some classic Tillamook Cheese advertising from the 40s, 50s. The photos in the book are good enough to justify "coffee table" status. From prize winning Macaroni and Cheese to delectable Cheese Truffles, the Tillamook Cheese Cookbook is worth every penny you would pay for it. Hard bound, 224 pages, 150 historical black and white photos, this book is truly amazing. Amazon does not have it in stock right now but you can buy it from one of their third party sellers.
From breakfast to dessert, you will find recipes for every meal and occasion in these top three cheese cookbooks. Cheese is definitely America's favorite ingredient and with any one of these cookbook's you can now enjoy the best cheese recipes, using the most savory cheese. Buy these books on amazon.com
Image credit - amazon.com
Top Three Cheese Cookbook Reviews