Top Three Meat Cookbook Reviews
18 Aug 2011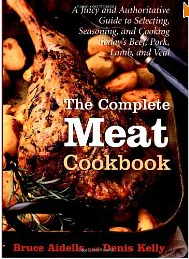 Here are some great reviews on the top three meat cookbooks available in the market today. They are all under $30 and if you pick up a used copy, you will find it under $25. They have great recipes and are all unique in their own way. Read on to know more.
1. The Complete Meat Cookbook – Bruce Aidells and Denis Kelly
Profoundly illustrated, The Complete Meat Cookbook opens with a segment on meat basics, including a little meat eating history and a marvelous doneness chart. Then there's a extensive section covering all the basic cooking methods and which cuts of which meat work best with each technique. Once the book splits out into sections by type of meat--beef, pork, lamb, and veal--the depth of information deepens, and the recipes keep going for more than 600 pages.
There are a couple of shortcomings however with this cookbook, it only covers beef, veal, pork and lamb so if you are looking for a different meat, it's not going to be here. Also, not all the recipes are pure basic ones, some of the recipes do call for some exotic ingredients, for instance, Zinfandel. However the experienced cook should not have a hard time finding suitable substitutes, an otherwise wonderful buy for any cook.
2. The River Cottage Meat Book - Hugh Fearnley-Whittingstall
This is, without reservation, among the most commanding cookbooks you would come across.  It's less a compilation of recipes than it is the "theory and philosophy of meat. " Hugh Fearnley-Whittingstall's words are engaging, interesting as well as educational. He guides you how to think about cooking meat effectively.  This cookbook includes more than 100 recipes and more than 200 full-color photographs. 
The one downside to this book is that cooks in the United States may need to convert measurements in some instances. However, this book is a great buy for meat eaters who value thoughtful food writing and an uncomplicated, well-informed, approach to a food that is a staple for many.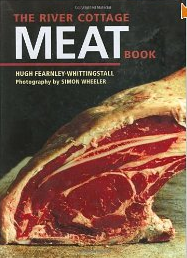 3. Good Meat – Deborah Krasner
This book is a complete guide to sourcing and relishing sustainable meat. With more than 200 recipes for pork, beef, lamb, poultry, and game, dazzling photos of appetizing dishes, and information on raising sustainable meat and buying from local farmers, this book is well worth the money. It teaches the reader, the culinary distinction between factory-farmed meats and animals raised on family farms, and the employment of the entire animal in a sustainable manner. If you want to cook delectable meals from humanely raised meat, this book is for you. It offers outstanding recipes designed for grass-fed meat, and offers cooks with the first helpful guide to ordering straight from the farm.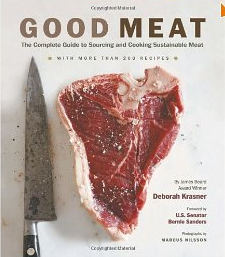 You can find all of the top three beef cookbooks on amazon.com. Have fun cooking and indulging in the fruits of your labor. Bon appétit.
Image credits- amazon.com
Top Three Meat Cookbook Reviews