Top Three Chicken Cookbook Reviews - Best Chicken Cookbooks
16 Aug 2011
A really good chicken cookbook will allow you to do a lot more with this versatile white meat. Pick up a great chicken cookbook to bring some zing to the boring old chicken dish and make cooking a lot more entertaining. Here are the top 3 chicken cookbooks available in the market today. 
1. Betty Crocker's Best Chicken Cookbook – Betty Crocker Editors
Chicken will never become routine with this fantastic cookbook filled with more than a 110 recipes. This book covers the whole spectrum when it comes to cooking with chicken. From soups and stews to refreshing salads and sandwiches; aromatic stir-fries and skillet meals; as well as juicy and tender baked and roasted chicken.  For the busy folk, there's an entire chapter on Super Express recipes for meals that can be made in 30 minutes or less. Filled with beautiful photos throughout to entice your taste buds every step of the way, it also contains a wide range of helpful information, from poultry shopping tips to infallible carving guides for chicken and turkey. This is definitely a great chicken cookbook.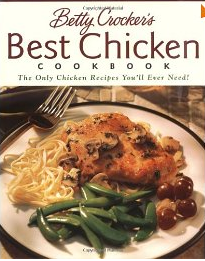 2. The Best Chicken Recipes - The Editors of Cook's Illustrated
This book gives you 300 fantastic recipes for making chicken in every way manageable. From the conventional roasted chicken to the modern chicken with leeks and saffron, this book covers basic as well as haute cuisine.  Whether you are cooking for an occasion, season, or lifestyle, this book is guaranteed to have recipes for it. The book is nicely sectioned into easy-to-navigate chapters for quick reference. Whether you're preparing dinner for a group or just cooking for two, are health conscious or constrained for time – this book will have it covered. Buy it on amazon.com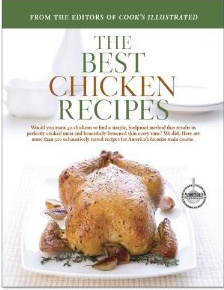 3. The Williams-Sonoma Collection: Chicken
Williams Sonoma, seller of premium gourmet products and kitchenware, has also created a collection of laconic yet comprehensive cookbooks. The book presents a wide array of tasty chicken dishes, from traditional recipes to fancy fare.  Together with gorgeous pictures that reveal the finished dishes in their entire splendor, the recipes are very doable, and should appeal to a wide range of cooks. Buy the book online on amazon.com
The chicken cookbook review should have made the task of finding the ideal book a lot easier. All these books are very impressive in their own way and would be well worth the purchase. 
Image credit - amazon.com
Top Three Chicken Cookbook Reviews - Best Chicken Cookbooks