Pasta Cookbook Review - Best Pasta Cookbooks
16 Aug 2011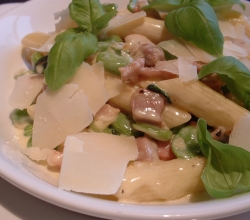 These pasta cookbooks are some of the best available in the market today. They all have their positives and yes, a minor negative or two as well.  Here is a succinct pasta cookbook review to help you out. You should be able to find all of them online on amazon.com or try checking a local used bookstore. 
The Classic Pasta Cookbook by Giuliano Hazan
Hazan gives comprehensible and simple to follow instructions for making pasta and for cooking more than 100 pasta dishes. Delicious color photos in this large-format book generously show all about Italian pasta, from making fresh egg pasta to why certain shapes pair best with particular kinds of sauces. Published in 1993, The Classic Pasta Cookbook remains an idyllic way to expand and perfect your pasta range. There are traditional recipes, plus dishes like Spaghetti with Leeks, Shallots and Red Onions, and Puttanesca Bianca. This book is more for the novice Italian cook.
The Essential Pasta Cookbook – Whitecap Books
The best part about this vegetarian Italian cookbook is that there is an illustration of every item in this book. This is extremely helpful in determining whether it's something you want to make, and also how it's supposed to look when it's done. The instructions are easy to follow. This book would work well for those who do not want to spend more than 30 minutes in the kitchen to prepare their meals.
Everyday Pasta by Giada De Laurentiis
Giada's book is very exact in instructions and leaves little room for error. This should work really well for someone who has not cooked much Italian before. Most of the meals in this book take under 15 minutes to create, and the rest only really take 15-30 minutes of hands on time. Although the majority of these dishes are all-in-one meals in themselves, Giada also suggests recipes appetizers, side dishes, and salads to round them out. The downside to this cookbook is that several of the dishes have been `Americanized'.  Basically, this is a good cookbook if you want some ideas for quick appetizers or pastas
How to Make, Serve and Eat Pasta by Jeni Wright
This book has beautiful pictures of all the various kinds of pasta, along with information about them.  You will get a good idea of the ingredients needed to make pasta and step by step illustrations on cooking pasta from scratch using a pasta machine. There is no information on herbs, spices and cheeses however. This book is definitely geared more for those who are interested in making pasta from scratch and then working with that to make dishes. The book has 30 recipes and 500 gorgeous pictures.
Image credit – ifood.tv
Pasta Cookbook Review - Best Pasta Cookbooks