30 Minute Vegetarian Mexican Cookbook by Sarah Beattie Review

12 Aug 2011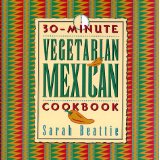 If you are wondering just how good the Vegetarian Mexican Cookbook by Sarah Beattie is, put your worries to rest, for this is one of the finest cookbooks out there with utterly mouth watering dishes. This book has recipes good enough for the meat eater to want to convert into a vegetarian. Each page is filled with some heavenly delight. Sarah Beattie has out done herself with this particular Indian Mexican cookbook. All the dishes can be made in thirty minutes or less, so if you are one of those people, always crunched for time, these recipes will work out great for you.
This book has a fabulous cover, and more importantly it's been authored by one of Britain's best new-wave vegetarian food writers and cooks, Sarah Beattie. She certainly stands in the vanguard of modern vegetarian food - not worthy, dull and difficult, not outdated or clichéd but helping the reader prepare food that is striking, fun, delicious and memorable. This book goes through not just the basics of Mexican food but the more extraordinary stuff too - cactus soup, for instance. It uses reasonably priced, easily-obtainable ingredients and yet always motivates you with the author's passion for, and interest in, the enchantment of food.
The main courses, salads, snacks and desserts can be prepared in a jiffy. Aromatic offerings include chili-spiked chickpea soup, Sopa de Garbanzos; tomato-tortilla layered Mexican Lasagna; and eggplant and roasted pepper Fajitas. Desserts are emphasized by super-fast coconut ice cream (Helado de Coco), made with canned coconut milk, corn syrup, and half-and-half and spiced with rum. Occasionally British usages (e.g., "Blacken the tomato skins") may have the inexperienced American cook a little befuddled but several of Beattie's selections will satisfy adventurous palates and beat the clock. Practically every recipe includes several important cooks' notes on techniques, ingredients, and planning ahead.
If you are somewhat of an expert cook, this book can serve as a great guide for creative recipes. Use it as a guide instead of following the recipes to a letter. There are some dishes for the vegan as well. If mock chicken does not make you squeamish, you can use it for some of the recipes to thicken them up.
This is certainly one of the best vegetarian Mexican cookbooks out there. Pick it up from your bookstore today and you will be not be disappointed. It truly is a cookbook worth having.
Image credit - amazon.com
30 Minute Vegetarian Mexican Cookbook By Sarah Beattie Review