The Complete Italian Vegetarian Cookbook by Jack Bishop Review

12 Aug 2011
The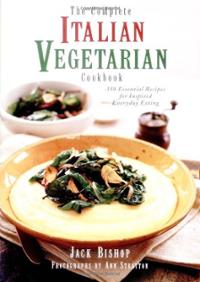 Vegetarian Italian cookbook by Jack Bishop is an exceptionally accessible collection drawing together the finest vegetarian recipes of Italy. With 350 recipes this book is not going to disappoint you. While reading this cookbook you will almost feel like you can taste the food in your mouth. 'Pasta and pizza may be Italy's most eye-catching exports, but it is the country's varied and sensible use of vegetables that provides the best inspiration for American cooks,' writes Jack Bishop.
Italian cuisine is a favorite with many people the world over, it is also a cuisine that is very vegetarian friendly.  Pizza and pasta provide the base for all kinds of meatless toppings and sauces, and there can be umpteen number of permutation combinations. However this particular vegetarian Italian book is going to knock the socks off of you. The recipes in this book are unbelievable and plentiful - there are segments for all kinds of Italian specialties, including pizza, risottos, pasta, salads, antipasto, frittatas, legumes, Panini, dolce (desserts), vegetable accompaniments and main dishes.
This is one of those vegetarian Italian cookbooks that doesn't just give you recipes but ideas too. Bishop also simplifies some recipes that have been unapproachable to most people. All the recipes in this book can be made effortlessly and turn out impressive. This is a cookbook for real people, who don't have time to cook all day, and regular kitchens. It is clear after using this cookbook that the author is not only a skillful chef and dedicated vegetarian, but also that he spends time living in Italy (Florence) and comprehensively understands the fusion of flavorings in Italian cooking and the significance of fresh ingredients.
The very thought of  Potato Fritters with Parmesan, Roasted Yellow Pepper Soup, Roasted Zucchini Torta with Tomatoes and Mozzarella, and Fettucine with Mascarpone, Toasted Walnuts and Basil should get even a non-foodie drooling. In the 350 recipes in this book, it will be hard to find even one that isn't downright delicious.
One particularly nice aspect of the book is the addition of complementary dishes for each recipe. And there are also very helpful tips on techniques like roasting peppers, baking pizza, cooking pasta, and making gnocchi.
If you love Italian food, don't miss The Complete Italian Vegetarian Cookbook. This book will very soon become your source for improvisation and inspiration in the kitchen and will keep your taste buds happy for ages to come. 
Image credit - ifood.tv
The Complete Italian Vegetarian Cookbook By Jack Bishop Review