Whirlpool Range Review

13 May 2011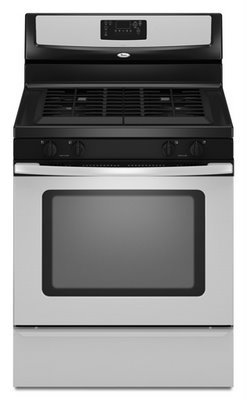 If you are planning to buy a new cooking range for your kitchen, then you have come to the right page where you can read Whirlpool Range Review along with some unique features of Whirlpool ranges.

 
Whirlpool offers variety of cooking ranges with the latest technology. Being a popular brand name for kitchen appliances, Whirlpool manufactures the products which are energy efficient and environment-friendly.

 
Different types of Whirlpool Ranges with their features:

 
Slide-in range:

 
Whirlpool slide-in ranges are available in gas and electric types. These ranges are available in stainless steel, black or white exterior finishes. The most popular models in slide-in range include GW399LXUS, GW397LXUS, GY397LXUS, and RY160LXTS.

 
Features:

 
These models have four sealed burners with porcelain cooktop surface.

 
Cooking time can be reduced by 30% due to TimeSavor plus True Convection cooking feature.

 
The satin finish resists wear and provides a smoother look and feel.

 
Drop-in Range:

 
Whirlpool manufactures drop-in ranges which are mostly available in black, stainless steel and white exterior finishes.

 
Features:

 
These drop-in ranges are especially known for their self-cleaning features, extra large viewing windows and accurate baking systems.

 
The model WDE150LVS drop-in range has a porcelain steel cooktop along with electronic temperature management system.

 
These drop-in ranges also have electronic oven, timer and clock controls.

 
Free Standing Range:

 
Whirlpool manufactures large number of free standing ranges which are available in stainless steel, black, biscuit and white exterior finishes.

 
Features:

 
These free standing ranges have Energy Save Mode and Easy View extra large oven window.

 
They also have steam clean option which helps you to clean up the oven easily after use.

 
These ranges have one special feature known as "Control Lock". By pressing the control lock keypad, you can disable the control panel command pads whenever you require.

 
Reviewer's Take:

 
Consumers are quite pleased with Whirlpool's practical and innovative features. These ranges are also well appreciated because of their durability, ease of use and ease of cleaning.

 
On the other hand, there are few consumers who have few complaints regarding Whirlpool ranges. One of the major drawback with Whirlpool ranges is that the oven controls are little difficult to control. And many consumers have experienced the poor customer service as well.

 
Despite the few cons of Whirlpool ranges, the company always make sure to manufacture quality products which can meet your daily requirement.

 
Whirlpool ranges are money-saving, time-saving and designed to complement your household kitchens in every possible way.
Image credit: www.texas.inetgiant.com
Whirlpool Range Review