Electrolux Range Review

12 May 2011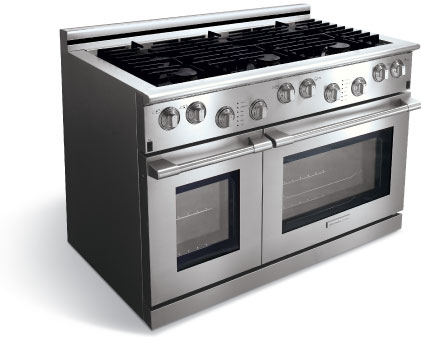 Planning to buy a new range for your kitchen?

 
If yes, then you have come to right page where you can read the Electrolux Range Review and get to learn more about the appliance. The reviews are a very important item as these have been able to determine how well the product has been performing.

 
About Electrolux:

 
Electrolux is a very renowned appliance manufacturer which manufactures ranges with many innovative features. Electrolux is a global leader in household appliances selling more than forty million products to customers in more than 150 markets every year.

 
Let's take a look at the types of ranges offered by Electrolux along with their unique features.

 
Types of Ranges:

 
Electric Range

 
Electrolux manufactures electric ranges which are available in three different finishes such as stainless steel, black and white. Some of the best features include:

 
Electrolux electric range EKC607601X offers innovative and impressive 3D linear design. These electric ranges are equipped with two big ovens which allow you to cook multiple dishes simultaneously.

 
These ranges are "A "energy rated and thus saves money on your electricity bill.

 
The control panel is a touchscreen and after selecting the option, that option stays visible and the other options fade to the background.

 
Induction Range

 
Electrolux manufactures induction units which are quite useful for your kitchen. The features of induction ranges are:

 
Induction technology uses the electromagnetic energy for heating a cooktop which is much faster than gas or electric energy. For example, you can boil water in less than 90 seconds.

 
The induction range has Perfect Turkey button which keeps the poultry soft and tender even if it is cooked for much longer time.

 
The induction range has four cooktop elements which can detect the cookware and adjust to fit the pot or pan automatically.

 
Gas Range

 
Gas ranges from Electrolux include some of the unique features which are as under:

 
The gas range from Electrolux has the burners which have a wide BTU performance, from 450 BTUs for simmering the food items to high BTUs of around 18,000 for boiling the water quickly.(BTU: British Thermal Unit; 1BTU = 1055.05585 Joules)

 
Many Electrolux gas ranges have warmer drawer for keeping the foods warm until they are brought on the dining table.

 
On purchasing the Electrolux gas ranges, you will get few accessories such as simmer plate, wok ring, and grill plate.

 
Then there is one more range in Electrolux known as Duel Fuel range. This range includes the touchscreen controls along with sealed burners. You can also adjust these burners from low BTUs, say 450, to high BTUs, say 18,000, depending on your cooking tasks.

 
Reviewer's Take:

 
The majority of people have positive reviews and opinions about Electrolux ranges. Electrolux appliances help you create your home just the way you want it.

 
The product is a good bang for your buck.
Image credit: arhdecors.com
Electrolux Range Review