Whirlpool Gold Refrigerator Review

12 May 2011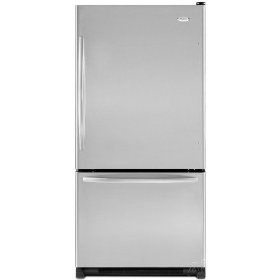 Whirlpool gold refrigerator models are undoubtedly the perfect choice especially for those people who feel that they want a top of the line model to keep into their home. Read the given Whirlpool refrigerator review and get to know why Whirlpool gold refrigerator is the smart choice.

 
In today's world, Whirlpool is the most recognized brand in home appliances and  the brand power holds a market share of more than 25%. The Whirlpool products are specially designed to suit the requirement of smart, confident, and in-control homemaker who knows what she wants. The products produced by Whirlpool are designed in a way that it employs unique technology and offers consumer relevant solutions.

 
There are plenty of models available in Whirlpool gold refrigerators. Let's take a look at some of the best features of each model.

 
Features of Whirlpool Gold Refrigerators:

 
Whirlpool GI5FVAXV Refrigerator

 
Whirlpool GI5FVAXV Refrigerator is a French door unit which gives you ample of storage space. The refrigerator has the capacity of 24.9 cubic feet which can store large number of food items. Temperature regulation can be easily controlled and thus proves to be highly energy efficient refrigerators. The shelves can be cleaned very easily as these shelves are spill-proof.

 
Whirlpool Gold GR2FHTCVL Refrigerator

 
Whirlpool Gold GR2FHTCVL Refrigerator is the top freezer model which has the capacity of 22 cubic feet. A temperature inside the fridge is automatically controlled and keeps the food safe for longer period of time. The refrigerators have filter which will give you ice and water which is cold and pure.

 
Whirlpool Gold GI0FSAXVA Refrigerator

 
Whirlpool Gold GI0FSAXVA Refrigerator is the bottom freezer unit holding 19.8 cubic feet of space. Although it is a smaller refrigerator, it is an Energy Star Rated refrigerator which saves money on your electricity bill. Besides this the refrigerator has LCD controls which help you monitoring every aspect of your refrigerator.

 
Whirlpool Gold GS6NHAXVQ Refrigerator

 
Whirlpool Gold GS6NHAXVQ Refrigerator is a side-by-side refrigerator with 25.6 cubic feet of space. The refrigerator has a special door cooling system which helps in spreading the fresh air all over the fridge, preserving the food from a stale feel. This model is a smart choice for larger families.

 
Reviewer's Take:

 
Whirlpool refrigerators are highly recommended to consumers. A Whirlpool Gold Refrigerator is one of the best refrigerators which will make your kitchen into the environment you always dreamed of. In order to choose the right refrigerators for you, it is always a wise decision to assess first your needs, preferences and budget.
Image credit: www.goldappliances.com
Whirlpool Gold Refrigerator Review