Haier Refrigerator Review

11 May 2011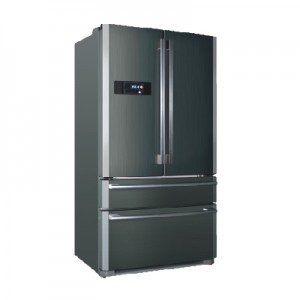 Haier is one of the best refrigerators reviewed and rated on most refrigerator review websites. Read the following Haier Refrigerator Review to get some more ideas about the appliance. The reviews are very important item as these have been able to determine how well the product has been performing since ints intro into consumer market.
Haier is the largest manufacturer of various gadgets; from cell phones to computers to home appliances It is a reliable brand. The Haier refrigerators are very popular among the millions of consumers all over the world.Being the largest whitegoods manufacturer, Haier is one of the China's Top 100 IT Companies. With the concept of "customers as the foundation of growth", Haier provides a one-stop star service to its customers. Haier has introduced many refrigerators with latest technology and has fulfilled the demand of the customers.

 
Let's take a look at some of the best features of Haier refrigerators.

 
Features of Haier Refrigerators:

 
The side-by-side Haier refrigerators consist of features such as automatic problem detection and warning system. The refrigerator has temperature variable compartments which help in keeping the accurate temperature for your food supplies. These side-by-side refrigerators are specifically designed to enhance your lifestyle and inspire good living.

 
Another unique feature of Haier refrigerators is the VC fresh technology. This feature ensures the freshness of the food items in the refrigerator for a longer period.

 
The frost free models of Haier refrigerator are usually built with technology which helps in saving the Vitamins in the food. It also helps in eliminating the unpleasant smell that comes from the interior of the refrigerators.

 
The Haier refrigerators consist of big vegetable basket in which you can store plenty of fruits and vegetables.

 
Haier wine refrigerators are specially designed for storing wine. You can keep around fifty wine bottles in wine refrigerators because of its huge size.

 
Why to choose Haier refrigerators?

 
Haier refrigerators are available in different sizes; the full-size fridges are quite suitable for larger families, the mid-size fridges are excellent for small families and also for them who lives in apartments of condos. Haier also produces compact refrigerators which is ideal for use in dorm rooms and offices. Depending on your need you can select the particular model.

 
Criticism:

 
The only drawback with this brand is that most of these refrigerators do not come with energy star ratings. Thus these refrigerators cannot be called as environmentally friendly.

 
Reviewer's Take:

 
It has been found that the customers find the Haier refrigerators very stylish and attractive. These refrigerators come with unique designs and have a style that is really outstanding.

 
Overall, Haier is a very good brand and value for money.
Image credit: www.brandstoday.in
Haier Refrigerator Review