Bosch Refrigerator Review

11 May 2011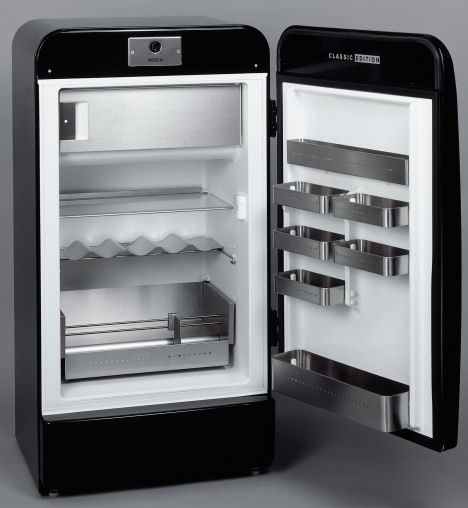 Looking to buy Bosch refrigerator?
Well, this Bosch Refrigerator Review article will definitely help you to decide why Bosch refriegrator is best for your family. Refrigerator is one of the most essential and central figures in most of the households.  There are plenty of good brands and models of refrigerators with good quality, Bosch refrigerator stands out with some unique and new features within the entire range.
Bosch is a very reputed company produces everything that makes household chores so much easier. The household appliances manufactured by Bosch stand out for superior quality, innovative technology, and excellent design. Founded in 1951, Bosch has a strong nationwide service network which spans around 1,000 towns and cities with more than 5,000 authorized representations to ensure widespread availability of both products and services.

 
Common features of Bosch refrigerators:

 
Bosch refrigerators are the good choice if you are in the market for high end consumer appliances. Some of the common features of Bosch refrigerators include:

 
Bosch refrigerators provide innovative cooling solutions which suits well to any household storage needs.

 
Bosch refrigerators have Integra Market Fresh food preservation system which regulates the odor and humidity levels.  This feature also gives you surety that your foods are well preserved and remain fresh for extended period of time.

 
These Bosch refrigerators are environmentally friendly. These refrigerators are energy efficient and save up to 61% than the conventional products. And thus Bosch refrigerators have been given A rating in terms of energy efficiency.

 
There is a model known as KGV36X10GB which is rated as A++. This means that it is a super efficient model which saves you even more money off your energy bills.

 
The Bosch refrigerators have safety glass shelves which will not shatter if broken.

 
Another feature which is found in Bosch refrigerators is Auto Defrost Technologies. With this feature the refrigerator will prevent any build up of ice inside the freezer and thus your appliance will run more efficiently.

 
The Bosch refrigerators also include the bright lighting system which makes the food hunt quite easy especially during late night. You can clearly see all the shelves from top to bottom.

 
Criticism:

 
There are not many drawbacks associated with Bosch refrigerators except the high prices of the product and also the warranty of the product is only for a short period of time.
However, the Bosch refrigerators are the most reliable home appliances you can ever have.
These refrigerators make the life very easy in the kitchen for the home owner and his family. Hence, Bosch refrigerator is a must option to consider when you are planning to buy a new refrigerator.
Image credit: www.appliancist.com
Bosch Refrigerator Review