GE Profile Dishwasher Review

26 Apr 2011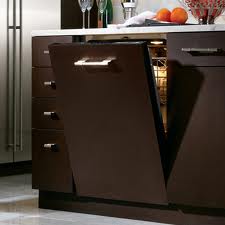 Those of you who are looking for an Energy Star qualified dishwasher can read this GE profile dishwasher review prior to making your final decision. GE gives us a product that is satisfying as well as visually appealing with this dish washing unit.
GE Profile Dishwasher Specifics
Lets take a closer look at the features that make this unit efficient.
The tall tub accommodates big cookware. Move-able tines make loading of items of all shapes and sizes easy.

There is a solid food disposer that makes it unnecessary to scrape off dried food from dishes prior to loading for the wash.

There is plenty of space in the tub which can accommodate 16 place settings in one cycle.

The unit is fitted with Smart Dispense technology that automatically detects the amount of detergent required for various types of wash cycles.

The control features are easy and not complicated even for first time users.

The unit conserves water with each regular cycle consuming only about 6 gallons of water.

There are 3 wash sprayers that clean dishes and even pans thoroughly.

This dish washing unit from GE is Energy Star rated for its conservation of water, energy and money.

 
Reviewers' Take
This dish washing unit looks appropriate from the outside. There have been complaints from customers about the racks not holding dishes etc. The nylon racks can be moved making space for larger cook ware but there are no arrays for stacking dishes. Users might have to load them one above the other. Moreover, the solid food disposer also has complaints of not being efficient enough with food residues left back on dishes and glasses even after the wash cycle. The noise level the dishwasher makes while working is another point that ought to be given some thought. The unit can be a bit loud for some, more so since quieter products are available in the market.
Priced higher than other products, GE profile dishwasher reviews confirm that the product is good but needs to be checked out in comparison with others in the market.
Image credit: appliancist.com 
GE Profile Dishwasher Review