Beko Dishwasher Review

25 Apr 2011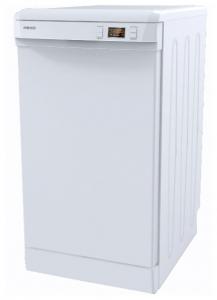 This Beko dishwasher review would help you make up your mind regarding upgrade of your dishwasher. Beko is a Turkish manufacturer of home appliances and claims to be one of the most moving and growing brand in UK. Beko offers its customers energy-efficient dish washing units in both slim line and full-size models.
Beko Dishwasher Specifics
These washing units are ideal for people looking out for a budget product that works efficiently. The features are all top class and appearance wise too Beko scores comparably with other competitors.
With noise level at 49dB, this dish washing unit works very quietly.

There are 12 place settings making this unit one with great capacity to wash almost 60 pieces at one go.

There are 5 different wash cycle options and users have the option of heavy load cycle to economy and water saving cycles. There is a quick wash option that completes cleaning the load in just a matter of 30 minutes.

There are 4 temperature settings for the wash cycles that can be opted for depending on the soil degree of the load.

Adjustable racks and shelves make loading dissimilarly sized items easy.

Some models do have the wash cycle tracker and even a half load wash option.

Hot air drying of washed items ensure that they are completely dry at the end of cycle.

Concealed heating element ensures that plastics are safe and there are no more melting accidents.
Reviewers' Take
The product seems to be good. With energy efficiency claimed as 'A' by manufacturer and less complaints from users, this washing unit is certainly worth a look. Do bear in mind that this product is not Energy Star rated nor has certification from NSF, nevertheless, seem to satisfy its users. The very quiet working, foldable racks, good wash cycle options and plenty of space makes this dish washing unit quite appealing.
Even with all these features, this machine does lack some that are found in the new dishwashers in the market like a solid food disposer that makes pre-rinsing of items prior to loading unnecessary, child lock out so that wash cycle programs are not tampered with, a leak alarm and delayed start. The highlight of this unit is its concealed heating element that is found to be missing even in some premium quality dishwashers.
The unit does not have a very impressive warranty. The parts and labor have a warranty of 1 year. A better warranty program could have pulled the product up against competitors. Nevertheless, this Beko dishwasher review is of the opinion that this could be a good buy if you are on a budget.
Image credit:homedishwashers.com 
Beko Dishwasher Review