Electrolux Dishwasher Review

25 Apr 2011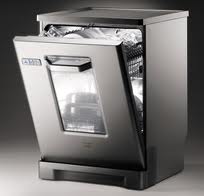 Get to know your Electrolux dish washing unit through this Electrolux dishwasher review. Electrolux is a leading manufacturer of home appliances and their focus is on practically designed technologically innovative products. Their dish washing unit is a modern, innovative, quality machine.
Electrolux Dishwasher Specifications
This is definitely the latest in cleaning technology. Let's take a closer look.
One of the quietest dish washing units working at 49dB.

Energy Star rated with efficient energy, water and electricity savings.

Tall tub with 14, 5 piece dish set capacity, interior lined with stainless steel.

There are 12 wash cycle options and users can pick from economy cycles to ones using copious amounts of water depending on the soil load. High temperature wash cycles can be used for washing very dirty pots and dishes.

There is no solid food disposal feature and leftover food needs to be scraped off or dishes rinsed prior to loading.

The unit contains a wash sensor that detects that items are clean and promptly goes on to the next step, saving money and water in the process.

Though there is a heated dry option, those wanting to save money and energy can opt to air dry the items.

Adjustable racks with fold down tines make loading of unusually shaped items convenient.

Delay start option allows wash cycles to be initiated at convenient timings.

The stainless steel interior allows conservation of heat and more efficient water condensing properties for drying of items.

Stainless steel exterior provides a modern, sleek appearance.

The controls are hidden and integrated.

Wash cycle can be tracked through the digital display on door panel.
Reviewers' Take
This product from Electrolux is of premium quality and is a tad expensive when compared to other units in the market. The features are commendable with large capacity, low noise, foldable racks, above average wash cycle options, energy efficient, heated drying etc. It is an injustice, that such a good product lacks a vital feature – solid food disposer. The items need to be pre-rinsed prior to being loaded in this dishwasher. Child lock feature also seems to be missing here. People wanting to run a half load would have to be satisfied with an economy cycle. This comes as a surprise since there are almost 12 wash cycle options to choose from.
The warranty of this dish washing unit is quite impressive with 1 year warranty for the entire product, lifetime warranty for tub and an extra 5 years or limited warranty. According to this Electrolux dishwasher review, the product is well featured and easy to use. If it was priced better, could have easily beaten the competition.
Image credit: appliancist.com 
Electrolux Dishwasher Review