Whirlpool Dishwasher Review

25 Apr 2011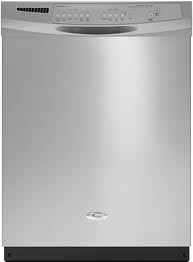 If you are in the market looking for a new dishwasher, take time to read this Whirlpool dishwasher review and learn a bit about Whirlpool which is known for producing quality dishwashers. The dishwashers offer a combination of reasonable prices and great performance.
A Closer Look At Whirlpool Dishwashers
Whirlpool and its many models of dishwashers are a fantastic choice for your homes. Get to know the many features of this dish washing unit.
Stainless steel exterior and concealed controls make this very trendy and sleek looking.

The tall tub can accommodate 14, 5 pieces and there are 6 options of wash cycles and 6 different options for cleaning the dishes.

There is a delay start timer feature which makes it convenient to time the wash as and when required.

The Whirlpool unit may feature among the loudest of dishwashers with 57dB which is equivalent to noise made by an air conditioning unit or similar to a restaurant conversation.

The unit is Energy Star certified for the very low estimated annual operating cost.

The interior of this unit is plastic which is ideal for reducing stains in tub.

The bottom and top racks are made of nylon and there are utensil clips provided for securing light items in place during the course of wash cycle to prevent accidental melting.

Wash cycle indicators like rinse indicator, status and optimum wash sensor makes it easier to track the progress of cycle.

The integrated control and compact size make this dishwasher unit from Whirlpool a very convenient and economical choice.
Reviewers' Take
With NSF certification, optimum wash sensor, rinse indicator and delay start timer, this unit could be worth a buy. Nevertheless, it should be noted that Whirlpool's unit does not contain a concealed heating element or a stainless steel interior. Stainless steel would conserve more heat than the plastic interiors of this unit. Another drawback that most mothers would notice is that this unit does not have a child-lock feature. The controls are aesthetically hidden but may not remain hidden for long from curious eyes and little fingers.
The most bothersome issue about Whirlpool dish washing unit is its warranty. The limited warranty allows this unit to drop a couple of places below its competitors. The unit's warranty only guarantees the parts for 1 year and service for 1 year. The one bright spot in this dismal warranty could be that there is a 30 day money-back guarantee for Whirlpool products. So you can try it and see for yourself if the unit works for you.
This Whirlpool dishwasher review opines that the unit does miss certain key elements like concealed heating element, stainless steel exterior, good warranty etc but it is aesthetically appealing and has huge capacity. Hence, based on priority requirements, zero in on one that is apt for individual conditions.
Image credit: appliancist.com 
Whirlpool Dishwasher Review