LG Dishwasher Review

22 Apr 2011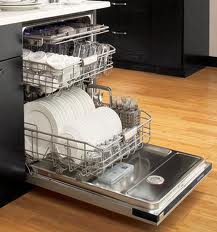 LG dishwasher review unravels the hassle free and easy dish washing facilitated by LG's sleek and stylish dishwasher. LG with its impressive array of kitchen products have scored again with this dish washing unit.
LG Dishwasher Particulars
Innovative and special features make this dishwasher attractive and a must have. Some of the features that gives this unit distinction are:
The unit uses a Hybrid Condensing drying system that makes sure that your dishes come out dry once the wash cycle is done and over. Drying is very quick in this drying system.

The steam washer of this dish washing unit has 16 piece capacity making it one of the largest among its contemporaries.

There are 3 cutlery baskets that can be detached so that arrangement if dishes and glasses in this is made easy. The upper rack and stem ware holder can also be adjusted so as to fit even odd shaped glassware.

The LG's dish washing unit makes use of a unique LoDecidel system, viz. The dish washer works very quietly and does not interrupt other tasks like watching TV etc.

The unit is Energy Star rated and highly efficient in terms of energy saving.

The built-in food disposer allows you to load the dish washer without first having to rinse the items.

The smart controls and sleek look appeals to one and all.

The stainless steel tub is durable and conducts heat inside tub so as to save energy as well as reduce need for reheating.

The unit allows for almost 12 % energy efficiency and almost 41% water efficiency.

The unit promises long years of operation.
Reviewers' Take
The features made available in this dish washing unit is truly commendable. With condensing drying system, low noise, huge capacity, built-in food disposer , stainless steel tub and long years of operation, the unit is attractive, affordable and worth the price. The semi-integrated controls allow even first time users a free and flowing running of machine. The few things that have not quite made a mark in this dishwasher is that the cutlery baskets and racks are not quite classy or well made. They appear to be a tad too flimsy and of low quality. Another aspect that may bother people who want the wash cycles to be over quick is that most of the cycles programmed in this are longer than normal. Even though the unit is attractive, it loses out in the classy appearance quota with ill designed grid covers. Nevertheless, this LG dishwasher review give the verdict of good, efficient energy saving, high on features and economical as the highlights of this dish washer unit.
Image credit: appliancist.com/
LG Dishwasher Review