GE Dishwasher Review

22 Apr 2011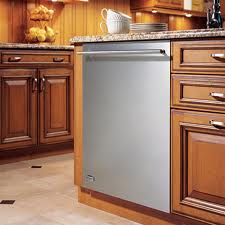 Read this GE dishwasher review to learn how large capacity and energy efficiency comes together in this dishwasher unit. Most of you would be wondering as to how energy can be saved while simultaneously expecting a higher capacity ?
GE Dishwasher Specifics
This unit of GE is a dish washing powerhouse with Energy Star qualification along with a capacity to accommodate 16, 5 piece dish sets. Other features of this invincible unit include:
5 different wash cycles that can potentially wash almost 80 dishes and silverware in one single load. The wash cycles are customized for specific types of washes like normal, light, pots, pans, SaniWash (kills up to 99.99% bacteria and germs) etc.

There is a hard food disposer that allows dirty food run off. The self-cleaning filtration system would take care of the cleaning of filter and user does not have to worry about cleaning it at all.

It works almost quietly at 52dB without causing much of a disturbance. The working sound level is comparable to that of a normal conversation.

The GE unit does not have a plastic tower at the center rather the tower-less wash system is replaced with 3 wash arms. This allows greater capacity and higher energy efficiency.

The dishwasher can be set to delay start of 2 to 8 hrs. Each stage of wash cycle can be monitored with the cycle progress indicators and the end of cycle is an audible beep.

The stainless steel interiors ensure that there is no staining and at the same time retains the heat inside tall tub. This brings about less energy waste and less reheating too.

Stainless steel finished exteriors are beautiful and sleek. They resist stains and corrosions. Hidden controls, curved handle and high quality nylon racks give this unit a quality beyond words.

The size of the dishwasher is normal and can replace any standard sized under the counter units without any kind of adjustments.
Reviewers' Take
Energy efficiency and capacity wise, this GE is a perfect blend. As far as we have assessed the product, it is of very good quality and comes with a very good warranty package. This unit has all the features that make a dish-washing unit appealing and convenient to users. Every homeowner looking for a dishwasher would want, good capacity, flexible washing options, child lock, tracking of cycles, less noise while unit is worked, no requirement for pre-rinsing of items prior to loading, highly energy efficient and star rates.
The highlight of the product is its huge capacity of being able to accommodate 80 pieces of dish sets and still be able to run and work at 52dB sound rating. Users can be happy with their low bills and lower service charges. The one and only draw back that this unit has is the lack of a heating element. This might not seem to be a big drawback for many, but in current times this is one of the innovative features that sets dishwashers apart from their competitors. This GE dishwasher review advises that this product is buy-able if you are not planning to put your plastics in the dishwasher!
Image credit: appliancist.com/ 

 
GE Dishwasher Review