KitchenAid Dishwasher Review

22 Apr 2011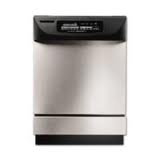 KitchenAid dishwasher review would give all buyers an insight into the working efficiency of this dishwasher and its feasibility. KitchenAid is a familiar brand name and if you thought it made only mixers and grinders, you will be definitely impressed by its dishwasher.
KitchenAid Dishwasher Particulars
The KitchenAid unit with its 3 different types of wash cycles and drying options is certainly worth a closer look.
3 separate wash cycles and 2 drying options would allow users to select various combinations of washing and drying for desired results.

The unit is Energy Star rated and hence buyers can be assure of saving money before as well as after purchase.

The unit has a hard food disposer that makes pre-rinsing of items unnecessary prior to loading for a wash cycle.

The dishwasher functions at 54dB and this is in between of the quietest of 49dB and loudest of 57dB.

The interior of the unit is stainless steel which contains the heat and thereby effectively sanitizes and dries the dishes.

The optimum wash sensor makes the unit energy efficient by sensing that the dishes are clean and therefore ending the washing cycle.

Child lock prevents children from altering programs.

The fold down tines in the lower rack allows keeping dishes in one place while the tall tub accommodates the non-standard dishes.

The unit has an aesthetic appeal with its stainless steel finish and hidden controls.
Reviewers' Take
Energy efficient, appealing appearance and a host of wash and drying options makes this dishwasher definitely one to be considered while looking for a new one. The foldable racks, tall tub, child lock, drying options, wash cycles makes this a very convenient product to invest in. Apart from all this, the one feature that makes this unit a good buy is the presence of a hard food disposer that allows items to be loaded without having to be rinsed first.
The draw back of this unit it that it does not contain a concealed heating element and has to rely on the heated water for drying of loaded items. If this is not a priority, KitchenAid would be a good buy. The icing on the cake according to this KitchenAid dishwasher review is its warranty. All parts and labor has a warranty of one year, while racks and electronics have a warranty for 5 years. The door liner and tub are also given a lifetime warranty. This product ensures that buyers are protected. With a fantastic appearance and energy efficient working, this unit is worth every penny.
Image credit: epinions.com/
KitchenAid Dishwasher Review