5 Top Restaurant Websites

18 Jan 2011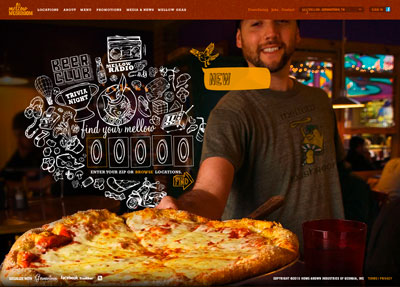 When ever I have time on my hands and am in a mood for surfing the net, I check out restaurant websites. This to me is an enjoyable pass time. I just love to look at all those pictures of food and drool over them. Here are some of the top restaurant websites from my favourite list. Enjoy browsing.
Now the first thing I look for in a good restaurant websites is speed. I hate those ones that take ages to load. Another thing that puts me off is the music which is on auto play, along with those navigation keys that act bonkers when you are trying to get to the next page. Pop up ads can also be a real pest.
The website for the Mellow Mushroom restaurant is also very good. Everything is arranged in a logical pattern and the music does not play, unless the user decided to click on the option. The graphics are aesthetically done, but the speed of loading is not up to the mark. Even then, the rest of it works as a dream, so I would still call it one of the best restaurant websites I have come across.
The Pizzaza, a Canadian restaurant has a good webpage. It has many sliders and almost every information one is looking for in a top restaurant website is present right there. Well almost everything. The price tag on the menu is missing, and that is an unforgivable sin.
There is another website that I came across of a restaurant called Nuevo. It is colourful and graphically sound. Even when I do not understand one word of German, I find that it is easy to navigate this website. Germany's Hoddows Gastwerk is also so simple and beautiful.
An Iowa based restaurant called the Blue Moon allows prospective customers to download a pdf copy of their complete menu. This I think, gives it an extra point. Yo Sushi, another restaurant website won the 2010 Webby Award for internet excellence.
Another is the website that belongs to Four and Jack Astors. Both of them are a part of the SIR Corp. restaurant group, which has a total of 45 properties under their umbrella. Even with so much information, they have packaged it well, and the website is easy to use and designed well.
Now my list of top restaurant websites are clutter free, easy to navigate, quick to load and absolutely clutter free. It is nice looking and functional in the same breath and opens even when you are browsing on your phone.
Image Credit: http://sigamajig.com
5 Top Restaurant Websites