Book Review: Anticancer A New Way Of Life

17 Jan 2011
Anticancer: A New Way of Life is written by David Servan-Schreiber. Dr. Servan-Schreiber is a psychiatrist and neuroscientist and clinical professor of psychiatry at the University Of Pittsburgh School Of Medicine. Also, he is a co-founder of the Centre for Integrative Medicine at the University of Pittsburgh Medical Centre.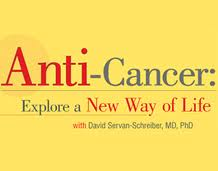 The books talks about the personal life experiences of David yet it is based on scientific studies.
The author is also a neuroscientist got to know about his brain tumor at the young age of 31.
The book, Anticancer A new way of life suggests how minor changes in diet can help increase the body immunity and help to fight cancer. Some of the dietary changes include regular intake of green tea, berries, dark chocolate and mushrooms and reducing the content of foods like sugar. 'Everyday at every meal we can choose food that will defend our bodies against the invasion of cancer", says Servan-Schreiber.
Few examples of anti cancer diet given in the book "Anticancer: A New Way Of Life" are cutting down the consumption of red meat to diminish the possibilities of breast cancer, or including broccoli and many other cruciferous vegetables in our daily diet to prevent cancer.
This book by David Servan-Schreiber provides a detailed write up on how cancer is impacted by factors such as nutrition, emotions, physical activities and environmental toxins.
The book on its release became an immediate best seller in France and also in many other parts of the world. Anticancer a new way of life suggests easy lifestyle and dietary changes.
This book by David Servan Schreiber does not mean to replace the conventional treatment of the disease but provides new outlook as to how one can prevent this dreaded disease by improved diet and lifestyle.
Anticancer a new way to life is aimed to "nourish life" by paying attention on whatever we eat and way we live.
Image credit- www.mdanderson.org
Book Review: Anticancer A New Way Of Life