Top 10 Vintage Culinary Cookbooks
16 Jan 2011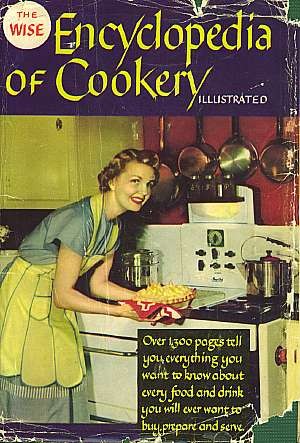 If you are finding it difficult to make up your mind on top 10 vintage culinary cookbooks, then I can help you out with it.   I am always in search of vintage culinary cookbooks. During the span of last 10 years, I have collected few tens of vintage culinary cookbooks.  If asked which book gives out good recipes, then I think I wish to say " all books give out the good recipes", but 10 of my all time favorite culinary cookbooks are:

The Wise Encyclopedia of Cookery (1949)
This wonderful culinary cookbook was  published in 1949 by Wm. H. Wise and Co., Inc. in New York. This book is a real encyclopedia in all senses because they give out detailed information about the purchase, preparation and series of various ingredients.  This book has 1329 pages and they cover every minute detail of the foods and beverages complete with recipes, drawings, instructions, and definitions.The other great thing is that the information is arranged very systematically. 
Feeding the Lions Algonquin Cookbook – By Frank Case (1942)
I can say that this cookbook generates some refreshing moments within us. Unlike the other vintage culinary cookbooks of the time: Feeding the Lions Algonquin cookbook gives a bite of the time. The book strutsout instruction from the giants of culinary world, Hollywood and Broadway. I will prefer to go for this 255 page book because it is written in a very humorous and memorable way. The book was published in 1942 by the Greystone Press, New York.
Cross Greek Cookery – By Marjorie Kinnan Rawlings (1942)
I will remember this culinary cookbook for its amazing illustrations and descriptions. This 230 page culinary cookbook written by Marjorie Kinnan Rawlings had illustrations by Robert Camp, and was published in 1942 by Charles Scribner's Sons.  While scouting through the pages I came across some wonderful description and recipes of southern styled dishes.
The French Chef Cookbook – By Julia Child (1968)
This cookbook belongs to the league of those rare vintage culinary cookbooks which never ceases to amaze you with its magnetic charm. This cookbook by superchef Julia Child was the extension of her television program "The French Chef." This culinary cookbook introduces you to hundreds of wonderful recipes.
Alice's Restaurant Cookbook – By Alice Mary Brock (1969)
I would say such culinary cookbooks fall into the league of Restaurant cookbooks. This is one of those vintage culinary cookbooks which go well with all those who want to remember 60's fondly. It has got some awesome hippie photography and very touchy feely text. The book was written by Alice Mary Brock and it had illustrations by Arlo Gutherie.
The Edgewater Sandwich Book – By Arnold Shircliffe (1930)
I will say this is one of those culinary cookbooks which stand apart from most of its famous counterparts due to its variety.  It has some exclusive chapters dedicated to Hors d' Oeuvres, Supremes, Relishes, Garnitures, and Flavored Butters. This 260 paged book was published by John Wiley Inc in 1930 and had just 8 pages exclusively dedicated to the advertisements.
The Kids in the Kitchen Cookbook-By Lois Levine (1968)
As the name suggest this is one of those rare culinary cookbooks which addresses to cooking skills of the kids. This 182 paged cookbook packs information about some of the real and entertaining recipes for teenagers.  I will say that this book dishes out some great recipes for obese children.
America Cooks - The Browns, Cora, Rose, and Bob (1948)
This 986 paged book written by The Browns, Cora, Rose, and Bob – was published by Halcyon House, Garden City, New York in 1948. This rare vintage culinary cookbook takes you to the culinary tour of 48 US States. The recipes are organized by state.
The Congressional Cook Book: Favorite National and International Recipes – Sixth Edition (1961)
This is my favorite amongst classic vintage culinary cookbooks of all time. It was published by The Congressional Club, Washington, D.C. 1961. This 481 paged cook book amazes you with its details. The forward of the book was contributed by Mrs. John. F. Kennedy (Aka Jaqueline Kenney Onasis ). Most of the recipes were contributed by the wives of Washington elected officials and it also had some wonderful international recipes.
 Mama Mia: Italian Cookbook– By Angela Catanzaro (1955)
This Italian Cookbook was published by Galahad books, New York City, in 1955. This is one of those culinary cookbooks which pack most entertaining details of Italian recipes with clearly described recipes and illustrations.  Other than that you will come across systematic listing of ingredients and pages of definitions. 
Image Courtesy: antiquetrader.com
Top 10 Vintage Culinary Cookbooks