Gordon Ramsay's Cookbook Voted Among 5 Worst Cookbooks Of 2010

10 Jan 2011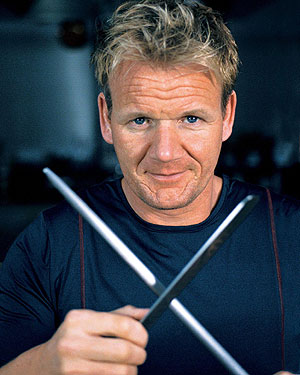 Can you just imagine - Gordon Ramsay's Cookbook Voted Among 5 Worst Cookbooks Of 2010? Yes it's true that one of the most popular cookbooks of the year has got scathing reviews by the Physicians Committee for Responsible Medicine. According to the U.S. watchdog, Gordon Ramsay's "World Kitchen: Recipes from The F-Word" contains some of the most disastrous recipes. Physicians Committee for Responsible Medicine is a non-profit advocacy group, which has a membership of approximately 8,500 physicians. Founded in 1985, the committee promotes nutrition education, preventive medicine and advocates a fully plant-based, vegan diet.
They have stated that 'Ramsay has travelled to the ends of the Earth to bring back dishes that will wreak havoc on your health'. No doubt that foul-mouthed TV chef Gordon Ramsay might think of dropping an F-Word or two when he will come to know that his cookbook has topped the list of the worst cookbooks of 2010.
According to the committee, recipes in the Ramsay's cookbook might take you on the road to a heart attack because the recipes are highly un-nutritious, loaded with high cholesterol and high calorie.
The doctors' group are in the opinion that Ramsay's British Pheasant Casserole containing two birds, smoked bacon, and tons of butter and cream is cholesterol-laden, saturated-fat-packed dietary nightmare that can lead to artery clogging.
Ramsay's cookbook one of the worst because the bad boy has turned traditionally healthy recipes into unhealthy ones. The plentiful amounts of fat in the recipes are not good for Americans when they are in the midst of an obesity epidemic.
The nutrition education director of the organization, Susan Levin has also expressed strong opinions on country star Trisha Year wood's "Home Cooking". The chef has used lots of heavy cream and butter and turned the recipes into a health shocker.
Another worst cookbook, How to Cook Like a Top Chef from the makers of Top Chef has promoted the foods that will lead you to heart disease, obesity and diabetes. Apart from this Barefoot Contessa: How Easy is That?" by Food Network chef Ina Garten is also in the no-no list of the doctors. "The Primal Blueprint Cookbook" by Mark Sisson and Jennifer Meier is also a blueprint for obesity and heart diseases.
So beware of those mouth-watering recipes listed by your favourite chef as they might take you on the roads of heart attack, diabetes and many other health disorders.
Image Credit: robotceleb.com
Gordon Ramsay's Cookbook Voted Among 5 Worst Cookbooks Of 2010