Try Mikawaya Mochi Ice Cream!
20 Dec 2010
As an avid foodie with a severe sweet tooth, I'm always on the lookout for treats that will satisfy my cravings without destroying my waistline. Mikawaya Mochi Ice Cream is the perfect food for anyone seeking the same thing. It's sweet, creamy ice cream wrapped in soft, fluffy dough and dusted with a white powdery coating. And guess what - it's only 100 calories per serving! What more can you ask for?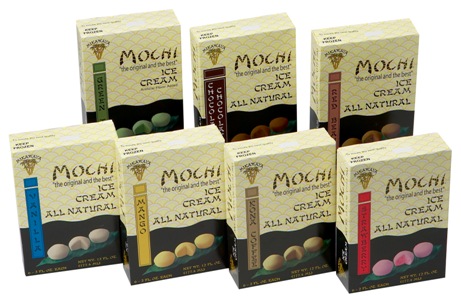 I recently had the good fortune to try 5 different flavors of Mochi Ice Cream, created by Mikawaya. Mikawaya is the original creator of Mochi Ice Cream, founded in Los Angeles. The product is made from a 100-year-old traditional Japanese family recipe, so you know it's gotta be good. They make 7 (count it!) different flavors of Mochi Ice Cream: Chocolate, Vanilla, Mango, Strawberry, Green Tea, Kona Coffee and Red Bean.
I tried the first 5 flavors, and they were all delicious but my favorite was definitely the Green Tea. I have a fondness for the flavor because of my Asian upbringing, but anyone can find a flavor to call their own. The texture is also completely unique to Mikawaya Mochi Ice Cream. It was the perfect blend of chewy dough and rich ice cream; enough to make you feel indulgent, but not heavy enough to make you feel guilty afterwards. And each portion is a pretty decent size for 100 calories.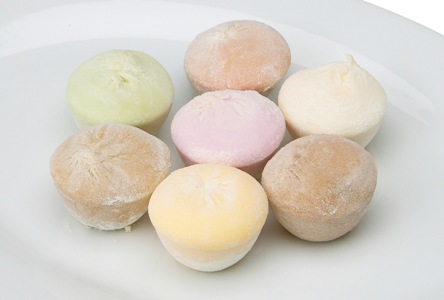 If you want more information, visit the Mikawaya Mochi Ice Cream website. I also just became a Fan of the Mochi Ice Cream Facebook Fan Page. You should to, so you can stay up to date with Mochi products, contests, and polls! So the next time you're craving something sweet and refreshing on a diet, reach for a Mikawaya Mochi Ice Cream. It's a great cross-cultural snack from an authentic family recipe and a certified minority and woman-owned business.
Try Mikawaya Mochi Ice Cream!