Die-Hard Chocoholics Can 'Dissolve' The Evidence Now
10 Nov 2010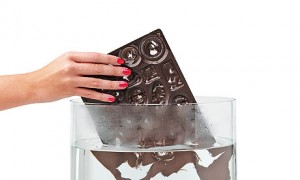 "Die-Hard Chocoholics Can 'Dissolve' The Evidence Now" but how? Many of the chocoholics will jump out of their seats on hearing that there is a compostable chocolate tray on the block which helps them to stay clear and destroy the evidence of their sin (Read chocolate munching).
Marks & Spencer has amazed the chocoholics with their marvelous invention of compostable chocolate tray, which vanishes into the thin air within no time. Till this day most of the chocoholics had hard time hiding their sinful chocolate indulgence, but now they can deal with it easily, only they need to have taps installed at their work places or homes. Yes after devouring the chocolates they need to reach out to the tap and dissolve the tray in a bucket of water.
Marks & Spencer is using the new kind of composite packaging for the first time to promote their Swiss Chocolate Collection range since October 25, 2010. They are intending to cash on this euphoria of compostable chocolate trays that has taken the world by storm.
The compostable trays are made of plantic, and are 100% degradable. Plantic is derived from starch and becomes moist when comes in contact with water, and breaks down completely. Helene Roberts, head of packaging at M&S, added that plantic chocolate trays were developed to curb the problems of responsible consumers who found it difficult to handle the leftover tray after enjoying the chocolates.  She further added that if left undisturbed on the compost heap this tray will disintegrate within 3 weeks. But under tap water it will disintegrate within matter of minutes.
It seems that this special edition of M & S chocolate is grabbing lot more attention than the expected because of its out and out nature friendly packaging. The outer layer of the chocolate boxes is made up of FSC (Forest Stewardship Council) certified cardboard, mat on the top of the box is made from recyclable grease proof paper. The only non user friendly element is the plastic film chocolate wrapping around the box.
M & S first tried plantic in 2007, and after a strong customer backing decided to use it for the 2010 Christmas sales promotion. They plan to use the same tray to roll out another Christmas delicacy minced pies. This move from artificial to natural packaging indicates that customers of the modern day not only bargain for the quality, quantity but their safety too.  Helen Roberts further adds that "We want to make sure the packaging we use can be easily recycled or composted – this is not only better for the environment but also for our customers who can now enjoy a box of guilt-free chocolates – they just have to resist eating them all at once."
The packaging experts and scientists believe that this new kind of biodegradable packaging has umpteen potential to transform the confectionary packaging market for better. 
Image courtesy: chocolate.mattters.com 
Die-Hard Chocoholics Can 'Dissolve' The Evidence Now