MasterChef India - A Clutter-Breaking New Reality Show
9 Oct 2010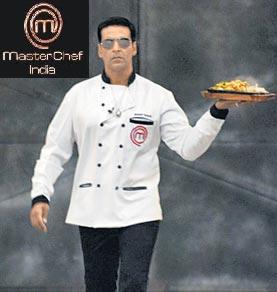 Come October 16th 2010, cooking will get a whole new meaning with the start of a brand new reality show, MasterChef India. MasterChef India is the local edition of the international culinary reality show - Master Chef, which has had a successful run in several countries and formats.               
`
Now, what's so special about MasterChef India…. Well, apart from the fact that Bollywood's original Khiladi and action star Akshay Kumar (who loves to call himself "chef by heart and actor by profession") will be hosting and judging this show along with two more celebrity chefs – Chef Kunal Kapur and Chef Ajay Chopra, the show promises of a tantalizing mix of high voltage drama and action. Action and drama in cookery… you might wonder. Well, all those who thought cooking was just about fixing a meal to fill tummies must surely watch this show – MasterChef India will definitely bring the true meaning of cooking food and culinary skills back into your kitchen.
 `
Master Chef has a unique format, where the participants (people with a flair for cooking but no formal or professional culinary training) are continually challenged with more and more difficult gastronomic tasks and also, groomed to excel as the ultimate chefs. Ever thought of making a dish out of making a dish out of raspberries, dark chocolate, red cabbage, fennel seeds, wine, and milk – probably not. But then this is exactly the thing that these participants will have to do, cooking delicacies out of everything and at times nothing. 
`
If all this has failed to relax your fidgety remote thumb, then may be, the long list of celebrity guests at the show will do the trick. Celebrities like Aishwarya Rai, Randhir Kapoor, Rishi Kapoor, and King of Udaipur will grace the show with their presence.    
Well, all this just makes the tag line of the show – "Tasty dish varna game finish," (cook tasty food or you are out of the game) all the more apt and fun. So, come be a part of this culinary conquest and stay tuned to watch the first episode of MasterChef India, October 16th, 9:00pm on Star Plus.   
`
Of course, I will be providing regular updates of the show, so, keep watching this space for more insiders' information on MasterChef India.
`
Image credits: bollywood.ac
MasterChef India - A Clutter-Breaking New Reality Show