Buffet style food in Las Vegas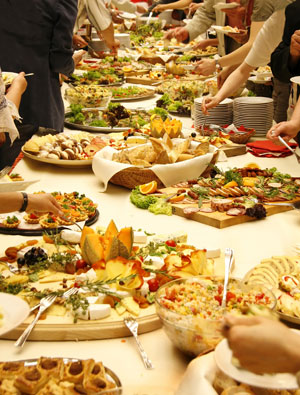 I just came back from a trip to the west coast of America. I was so excited about it right when I booked the tickets in August.
I was to land at Vegas airport around 8 in the evening. I knew it would be 10 by the time I reach the Excalibur hotel and casino where I had booked for 2 nights. Considering they don't feed you on the flight and Vegas is 3 hour behind the east coast... I knew FOOD will be on our mind. Being a vegetarian I was anxious to see what I will get, especially with a 5 year old.
Guess what, I was in for a surprise. Not only did I find FOOD I found plenty of it buffet style. Let me tell you I am not the biggest fan of buffett but this is totally different. Multi cuisine.. they even had soft icecream where you do your own filling the cone thing. With a 5 year old at midnight I never had a happier meal.
We ate and we ate and still there was food we had not tried. For all those people fond of the bird and its cousins they had a whole carving station the size of 2 salad bars at a local grocery store. Thats not it. The price was per person was less than the price of one entree at a family restaurant. You can't beat that. Well, my daughter turned into a 3 year old at the counter where you pay and then eat. Also the hotel gave me a coupon book at check-in... guess what? I had a 2 for one deal. You absolutely had to see my hubby's face. Awesome dude! I have never seen him happier for using a coupon.
The buffets go for breakfast, lunch and dinner and they are at all the hotels... I was so curious I tried them at various places all through out the 3 days.
At one of the places we were told that buffett is closed but that was my last night at Vegas and I was not going to eat fast food. I tried talking the lady at the counter into letting me go in as I had a hungry child and it was my last night.. She was a kind lady and I was in. But there was a catch. I could take what ever I wnated in 10 minutes and then they would close the food area. I was welcome to sit and enjoy the food for as long as I wanted. We immediately got to work and believe me amongst the three of us we had 12 plates full of food. Salad, pasta, pizza, lasagna, taco, Chinese rice, lomein, egg fu young, chocolate cake, cookies, tiramisu, pie, you name it we had it. Accompanied by a bottle of wine. No dear, the wine was not included in the buffett but hello coupon. Pay for 2 get a wine for free. Alright now that is what I call hospitality.
All in all Vegas was fun. I would not recommend going with a kid though, but food junkies would love it. As soon as I came out of Sin city and saw all those fast food places I was back in reality. Buffett style food has a whole new place in my heart.
Thank you Las Vegas for introducing me to the pleasure of BUFFETT. 
Image Credit: pointsplusliving.blogspot.in
Buffet Style Food In Las Vegas