Heart Attack Grill Causes 'Heart Attack'
26 Apr 2012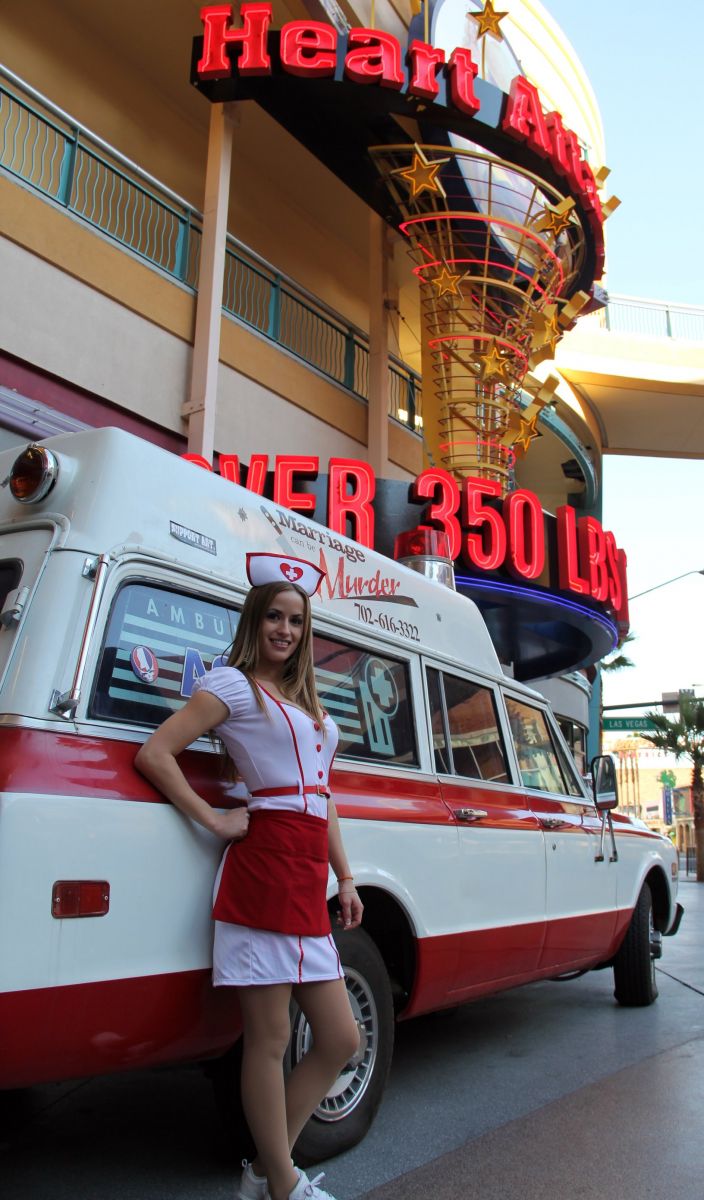 Too much fast food gives you a heart attack. This was proven yet again in Las Vegas when a 40-year-old woman collapsed right while she was gorging on a "double bypass burger" of "The Heart Attack Grill", a hospital-themed restaurant. The woman had to be carried off to a hospital where she is now recuperating. This is the second such incident in as many months at "the Heart Attack Grill."
1) 'Heart Attack' At "Heart Attack Grill"
At one of the outlets of the restaurant in Las Vegas, a woman was eating the "double bypass burger" – a one pound burger with 10 bacon slices. Along with the burger, the Las Vegas resident was also smoking cigarettes, and drinking a cocktail. All of a sudden, the woman collapse in the restaurant. The Grill's owner Jon Basso told the news channels that the woman had been admitted to a hospital. Basso also said, "She was eating, drinking, smoking, laughing, dancing, having fun. But when you treat your body like that day in and day out, eventually your body is going to give out." However, he hoped that the woman would make a full recovery.
2) The Notorious Grill
It is not the first time that "the Heart Attack Grill" has been in the news for wrong reason. Every since it opened seven years ago, the restaurant has been under attack from public health advocates for its artery-clogging menu, which includes gems like Single/Double/Triple/Quadruple Bypass Burgers, Fat Bastard Wines, and Butter Fat Shakes. Seriously, when a restaurant advertises its food as "Taste, Worth Dying For!!!", then the customers have no choice but to give in. There is a sign warning the customers, "This Establishment is Bad for Your Health," right at the restaurant. So, if the customers are still digging into all that burger and bacon, they know what they are eating. The restaurant works on the legal doctrine of assumption of risk, which emphasizes that if someone is eating fast food willingly, then they are also accepting the consequences arising out of it.
3) No Compensation
Fast food is not the only food you need to avoid in case of a heart attack nor is there any medical evidence that one gets a heart attack just by eating a hamburger. As a result, the woman would not be able to sue the restaurant for her emergency bill. While the man, who collapsed earlier this year, while eating the Quadruple Bypass Burger, at the restaurant, was able to recover the charges from the Grill because his condition was determined to be a heart attack. In his case, people did not first understand what is happening to the man because he started sweating and shaking while eating his burger. Basso speaks about him, "I actually felt horrible for the gentleman because tourists were taking photos of him as if it were some type of a stunt. But even with our morbid sense of humor, we wouldn't pull a stunt like that."
4) In Defense 

It is not just the practice of following skanky advertising that has "the Heart Attack Grill" in the dock. The Grill offers free meals to anyone weighing above 350 pounds. Only last year, the spokesperson-cum-model of the restaurant, who weighed a whopping 600 pound, passed away at just 29 years of age. The company sells "disastrous" menu, which is served by waitresses dressed as nurses. With so many things against the restaurant, it must be very difficult for them to do business. Not really, if Basso is to be believed. Basso explains his restaurant philosophy as "a Mecca for unhealthy lifestyles." He is quick to add, "It's a lifestyle issue. We attract the avant-garde of lifestyle seekers."
Well, fast food is the enemy of your well-being and you know that. If you want help, here is how you can stop eating fast food on your own. And if you still are keen to go to "the Heart Attack Grill", make sure you keep your family members informed in case of a sudden collapse.
Image Courtesy: heartattackgrill.com
Video Courtesy: youtube.com
Heart Attack Grill Causes 'Heart Attack'