Big Boy Restaurant Review

16 Jul 2011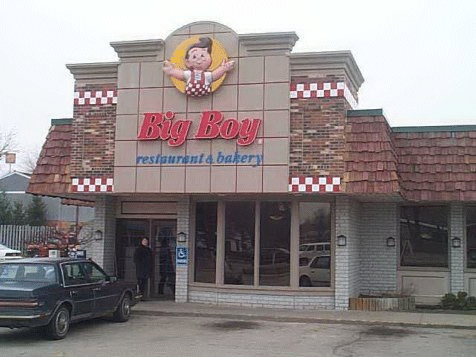 Eating a double-decker hamburger while returning from office has become a part of daily routine of many people but have you ever wondered where exactly this jumbo size hamburger came from. The birth of this marvelous food artifact took place in the Bob's pantry back in 1937, now popularly known as the Big Boy Restaurant.
Interesting Facts about big boy restaurant
Big Boy Restaurant started as a small hamburger shop in Glendale, California owned by Bob Wian  in 1936
The double –Decker burger was named after Richard Woodruff (1936–1986) of Glendale, California. Six year old Richard Woodruff often helped Bob sweep up in exchange of a free burger. Once Bob fondly referred him as a big boy and name struck him.
The mascot the chain Big Boy, depicting a chubby boy with a red checked t-shirt and a sandwich in hand, was created by animation artist Ben Washam.
A comic book "The Adventures of Big Boy comic book" later featured this character and was given as a give away to children visiting this restaurant.
The BB chain was brought by  Marriott Corporation in 1967  and was later acquired by Elian Brothers
The headquarter of the chain now is situated in Warren, Michigan (managed by CEO Robert Liggett, Jr )and is internationally known as Big Boy Restaurants International
More than 450 restaurant all over USA and Canada are now franchised By Big Boy chain
Big Mac of McDonald's Pittsburgh franchise was inspired by Bobs  by Wian's Big Boy double-decker
The BB burger consists of three layered sesame seed bun, which contains two pieces of thin beef patties with lettuce and is served with the famous classic BB sauce 
Unlike the Big Mac, the original recipe of BB burger does not contain Onions. It has to be ordered separately.
One could try out the egg classics i.e. burgers will egg fillings like the Scrammy Hammy, and Big Boy eggs Benedict. Also omelets and waffles can add up to the taste. You could pamper your taste buds with helpings of hot cakes and sandwiches as well. One can expect to have a wholesome breakfast at the Big Boy's since extras like Bacon, oatmeal, biscuits; cinnamon rolls etc. are also available.
If you are planning to go out for dinner, Big Boy's can be a good choice. One can choose from, among the sea food, chili classics, Italian, steak and beef and chicken and look towards having a wonderful dining experience.
Big boy merchandise is now also available on order and in some BB restaurants.
You can expect a nice, clean and pleasant ambience at the Big Boy's. Although, for those who are averse to smoking, you might have to think of going someplace else to eat.
You can expect to find great service and the expense will surely not take a toll on your wallet. They serve an All American style food at affordable rates.
So, the  next time you are eating hamburger in one of the BB chain , savor the taste of that delicious burger  along with marveling upon the history of this delicious invention  of Bob's.
Image Credits: www.royalorderoffraccoons.com
Big Boy Restaurant Review