Booches Restaurant Review

16 Jul 2011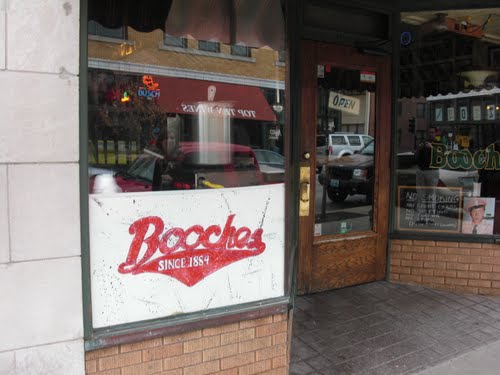 If you love burgers and are looking for some place offering just the right kind, Booches is the choice you should make. Tucked between coffee shops and bookstores, bars and yoga studios, this place is also a pool hall. So, here is a Booches Restaurant review for all those who love burgers.
Memories from years back
Founded in 1884, Booches is a restaurant and pool hall at 110 S. 9th Street in downtown Columbia, Missouri. Booches received its name when its original owner, Paul Blucher Venable, was nicknamed "Booch" as a child by writer Eugene Field. The restaurant has gone through many owners in its time and was male-only until the 1970s.
 More about Booches
They have three full-sized pool tables, two snooker tables, and one billiard table (no pockets) for three cushion billiards play, thus bringing you a great opportunity to flaunt your knowledge of billiards and enjoy too.
They host yearly invitation for only Snooker and 3-cushion tournaments.
They are known for the saying "Closed on Sunday, see you in church," among other witticisms posted on their walls, including "Unattended children will be sold as slaves" and "No sniveling."  Parents need not be afraid, as this is just another way of reminding you that your children are with you. Lest you should get too much indulged in the taste of burgers!
The covered pool tables, during the day, give you the distinct impression that things didn't get started until much later. The place has a very masculine feel, which isn't too surprising since it is a pool hall, and at one time it was men only.
Also adorning the walls are faux-original comic strips incorporating Booches's regulars, team photos of the Mizzou football teams in the early 1900s, and other old-time sports memorabilia.
Their cheeseburgers, were named one of the top ten burgers in America by USA Today in 2000. In 2005, Jerry Shriver of USA Today included Booches's hamburger on the list of top 25 dishes from his "Down-home Dining" project.
Their burgers are small in size and come with only mustard, onion and pickle filling. Simple, but tempting.  Moreover, there is beer at much lower cost.
Even though it is not a perfect restaurant, with no menu card or proper attendants, it offers you the best it has. The ambience is not cozy and the service may be a little slow at times. So you just have the time to place your order and grab a burger. Yes, they do not give you plates. They have a unique style of offering burgers on wax paper.  They have gained wide popularity over the years and known for being consistent.
During the mid to late 1970s, the then-owners of Booches's edited and published four issues of the Review la Booche, a literary journal featuring poetry, prose, sketches and photographs by contributors of such prominence as John Ciardi, William Stafford, Elton Glaser, Frank Stack and Richard Eberhart, along with local and regional contributors.
Today, it is a haven for University of Missouri and St. Louis Cardinals sports fans, and has a considerably more family-friendly atmosphere.
Handwritten gift certificates are sold at this restaurant
In a nut shell, if you are hungry and your pockets are light. You want to eat something really nice. Grab a bite at Booches. You will want to come here again and again. And even if it is a onetime visit, it surely will be one you ought not to forget. So, feeling hungry now? Drive over to the nearest booches to grab a bite.
Image Credits: www.panoramio.com 
Booches Restaurant Review