The Fuddruckers Restaurant Review

11 Jul 2011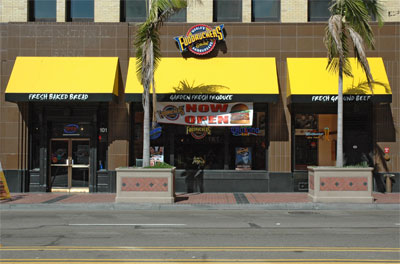 They claim that the only place where one could get Fudds Prime is the Fuddruckers. They aim to make the world  happy, one burger at a time. They are the Luby's Fuddruckers Restaurants! To verify these claims and get an insight of what does Fuddruckers have in store for the hungry grumbling stomachs out there, here is a quick Fuddruckers Restaurant Review.
History of the Fuddruckers
Founded as Freddie Fuddruckers in 1979 by Philip J. Romano in San Antonio, Texas, the restaurant was started with the  thought "The world needed a better hamburger". Till date, it has 56 company-operated restaurants and 129 franchises across the United States, Canada, Puerto Rico, Saskatchewan. The company still has its headquarters in Texas and is currently a Luby's, Inc. acquisition.
The Fuddruckers Review
Famous for its burgers, the chain offers burgers in ridiculous number of sizes. They offer the fresh 1/3, 2/3, 1/2 and the 1Lb burgers to cater to people having different appetites. One can try a lot of specialty burgers as well like the Southwest (that contains the Smokehouse bacon, guacamole, pepper jack cheese), the Works (Smokehouse bacon, American cheese and grilled mushrooms) and the Three Cheese burger (Contains three varieties of cheese i.e. American, cheddar and Swiss).
For those who are more into sandwiches, you could try out the Crispy chicken, Grilled Chicken, Bacon, and Swiss, Chipotle BBQ (grilled chicken breast with BBQ sauce, Smokehouse bacon, and  cheddar cheese).
Hamburgers might be their forte but Fuddruckers can whip up a fresh, juicy salad as well for those who are more into the greens. You could try out the delicious Napa Valley (made from Romaine lettuce, bleu cheese, apples, dried cranberries, and almonds. Other varieties offered are the Chicken Caesar salad, Taco Salad, and the Market Toss brimming with luscious tomatoes, cheese, eggs, almonds, and bacon.
The Fuddruckers are pretty consistent across the chain. The quality of food, especially the freshly baked buns, is exquisite. The burgers are cooked just right and the meat is well seasoned.
It is interesting to note that the Fuddruckers offers veggie burgers too. One can try out the "Build your own" option available and design a Fudds Exotics burger that houses market fresh produce and a variety of toppings that you can choose from.
Though the place is bustling with customers most of the time, it is not difficult to get a seat. It is well managed as far as reducing the customer waiting time is concerned. So, If you are in a rush and there is no other place to go, Fuddruckers can be a good option.
They serve in a good ambience and the restaurant offers huge parking facilities. It is thus a perfect hangout place for families, groups, and right about anyone who wants to grab a junk meal in a cafeteria style homely atmosphere.
Fuddruckers are accommodating to the needs of the customers who prefer a low-carb meal. They do offer a lot of greasy food but you could opt for a sandwich or burger without a bun, on a huge lettuce leaf or use oil or vinegar or brown mustard for dressing.    
One meal, consisting of a burger, soda and fries could cost you about $12 which is quite expensive for school and college going students. The kids' meal offered here is quite sufficient for a young one to gorge on. It includes a drink, cookie and choice of: fries, apple wedges, fruit cup, BBQ beans or coleslaw. And of course there are Chicken bites and Mozzarella Sticks to choose from.
The dessert menu is also quite enticing. The cookies and brownies are quite cheap and a milkshake is a must order if you are dining at the Fudd's. A good choice of dessert could be cookies and cream.
For those who appreciate a lively atmosphere with sports banners and pictures hanging on the walls and the sounds of people laughing and enjoying themselves, Fuddruckers is the right place to be!
Image Credits:http://www.fluidsound.biz
The Fuddruckers Restaurant Review