K&W Cafeteria Review

6 Jul 2011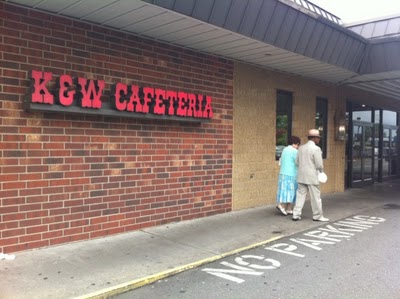 What started out with a small coffee shop grew into a fine chain of cafeteria style restaurants. Indeed the K&W Cafeterias across the states are successors of one of the oldest trendsetters in the hospitality and food industry in America. The K&W Cafeteria Review presented here will give you a brief but complete insight into the services offered by the best in the business.
What is K&W
The birth of K&W Cafeteria chain can be traced back to mid 1930s. The then Carolinian Coffee shop from Cherry Street, downtown Winston, was taken up by Grady T.Allred. He renamed it to K&W Restaurant after the original investors Thomas, Kenneth and William Wilson and T.K Knight. Allred worked there as a partner initially and looked after daily operations. In due course, he took over the restaurant completely and added cafeteria-style service to it in 1951.
Interesting Facts about K&W     
Recently K&W has been selected as the Goodwill Employer of the year. The reason for this is said to be the 'Passion for individuals and community' that has incessantly been shown by the service provided by K&W Cafeterias across America.
K&W's offers a menu featuring over more than 100 fresh foods including varied options for the health conscious individuals as well. It started way back in 1990, when Gary T. Allred, the then President added a registered dietician in the K&W staff to introduce the "health options" program for the cafeterias.
Many recipes were developed under the health options program at K&W and it became a part of Health Centre Dining program of Wake Forest University Baptist Medical Centre.
For kids aged 12 and under, Kids Welcome meal is served, which has the a list of entrees, vegetables, breads, beverage and a treat to chose from to build one's own meal consisting of each of these. These meals are prepared keeping in mind the dietary recommendations of reduced fat, cholesterol, and sodium content in the dishes.
K&W serves traditional South American favorites like fried chicken, okra, turnips and homemade desserts in across a chain of 30 restaurants across North Carolina, South Carolina, Virginia, West Virginia.
The serving line consists of more than 18 types of salads, 15 steaming entrees and famous made-from scratch bread.
K&W's offers great deals as promotional offers which they market as better than their food alone. Breakfast specials, Family feast and Family gathering and Party tray and Platters are a few promotional offers on board.
K&W's was one of the first restaurant chains to introduce the concept of "To Go Shop" which was meant to cater to the increasing need of accommodating the take-out business.
K&W's has introduced a Catering Service option for weddings, gatherings and other social events as well. They provide additional staff/carver, paper goods and china goods as well to set up the tables at your party while you dance the night away. An organized dinner party is just a call away!
A unique facility called the Group Pricing Option is also available to the customers. Large groups of people who are regulars at K&W can avail these options that offer payment options like payment on departure, in-house credit after departure and pre-payment option. The complete group reservation sheet after being filled online can then be sent to the K&W office for processing.
There have been complaints regarding the long waiting hours and the decreasing hospitality at the MCL.The ladies serving in the cafeteria have been termed to be quite rude at times,making the overall experience of having a meal at MCL quite cold.
The crux of the entire review is that the founders of the K&W Cafeteria style restaurants believed in styling it up i.e. to serve affordable good quality food in style. For those of us who appreciate a change of pace once in a while and would don't mind checking out the long queues of cafeteria style restaurants, K&W's is one place to dine at.
Image Credits: eatdavelove.blogspot.com 
K&W Cafeteria Review