Piccadilly Cafeteria Review

6 Jul 2011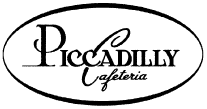 The motto "It's the food and the people" defines the pace of growing customer base of the Piccadilly's. One of the most sought after places for food-lovers these days is the nearest Piccadilly Cafeteria. A place like Piccadilly that has a lot of history attached to it, is definitely a match for the best in the business. Here is a quick Piccadilly Cafeteria review to throw light on the fact that why should "you eat out and take out "more from a place like Piccadilly.
 How did Piccadilly come in picture
 Piccadilly Cafeterias, Inc. was first set up during World War II by a veteran named Tandy Hannibal Hamilton. Tandy was the General Manager at one of the Forum Cafeteria chain restaurants in Kansas at that time. But his dream, of owning a chain of restaurants, led him to buy the small cafeteria located on Third Street in Baton Rouge which lay the edifice of the Piccadilly cafeteria chain across United States.
 Some interesting facts about Piccadilly cafeteria
A total of 115 cafeterias in 15 states across central and southern USA operate under the name Piccadilly Cafeteria, Inc.
Piccadilly offers something for everyone. A 99 cents Kids Meal after 4 pm everyday which includes an entrée, two sides, drink and a dessert and the trademark Real Meal that offers a chicken specialty everyday are a favorite among the customers.
Piccadilly's simple savings meal that costs $4.99 offers a home-style customized meal every day. For those for us, who love to dine out with the whole family, Piccadilly offers Family Packs for four or six members. It can comprise of an entrée, two sides, bread and an add-on.
Special packages have been designed for Military Personnel and their families and for Senior citizens which include a 10% discount on the bill.
There are some signature dishes available at all Piccadilly cafeterias. If the flavorful beef, chicken and turkey specialties, pork dishes, scrumptious seafood, sensational salads, special soups, fresh baked breads, desserts and drinks are not enough to stir your appetite there is still more.
Piccadilly's has introduced food tray's that come in different sizes. The 18 inches Dipper's Delight that offers fresh vegetables with a Ranch dip; 16 inches Party Assortment that contains cheese, ham and roast beef; 18 inches Fruit Fiesta containing assorted fresh fruits are a few among the platters offered. These food trays can cater for 20 to 35 serves depending upon the size of the tray.
What's more is, that for those of us who like the world to be just a click away, Piccadilly offers the facility of placing the meal orders online; in advance; for pick up from their nearest café.
The service and hospitality at Piccadilly's is applauded by many,but it has been noted that at the Baton Rouge branch the managers insult the employees right infront of the customers,potraying a very negative image of the work culture at the Piccadilly's.
Piccadilly food service division offers catering services to colleges, universities, schools and businesses.
Many package deals are offered for group trips as well. So the next time you plan a trip with friends, co-workers, sports-team or any other group, Piccadilly has just the right package to offer to you.
For those who are vegetable lovers, a Piccadilly Cafeteria is just the right place. The green salads, old fashioned Cole slaw, bean salads are a vegetarian's delight. If you wish to taste some old fashioned vegetable dishes like Green beans, mashed potatoes with gravy, fresh broccoli, fried okra, corn, black eyed peas, lima beans, succotash just drive over to the nearest Piccadilly Cafeteria and be delighted to relive the memories of childhood.
So, if you are among those who love to establish dining traditions and pass them on to generations, Piccadilly might just be the right place for you. It is after all a place that promises to serve you a real meal with a promise to delight you.
Image Credits: content.edgar-online.com, ifood.tv 
Piccadilly Cafeteria Review