Bar Mleczny Cafeteria Review

6 Jul 2011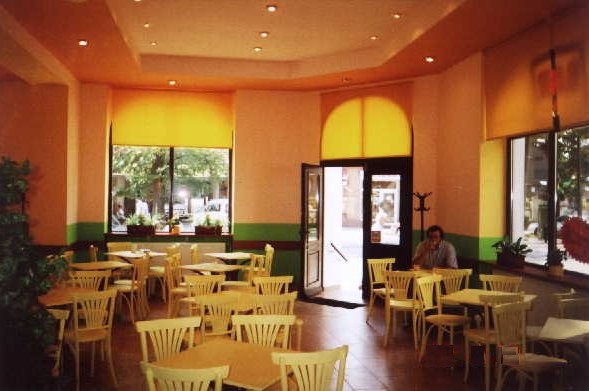 Polish milk bar or Bar Mleczny is one place you ought to eat at when meandering through the streets of Poland. Polish cuisine, well known to be hearty and oozing with cream and eggs, has a lot of history attached to it. Here is a Bar Mleczny Cafeteria review to give you a glimpse of what the Polish would say "Jedzcie, pijcie i popuszczajcie pasa" i.e."Eat, drink and loosen your belt".
Interesting facts about Bar Mleczny
The Bar Mleczny was started by the Polish state to feed the working people at subsidized rates through many dairy products. The concept was to serve healthy home-cooked food at rates much lower than the other bars and restaurants that cater to tourists. Though recent remodelling of these bars has given them the excuse to raise the ridiculously low fares to normal prices.
The birthplace of Bar Mleczny is Krakow. The first milk bar came into existence when Pod Banka, which means under the milk Churn, was opened on the main market square on May 30, 1948.
The idea was to get people hooked to milk instead of alcohol.
Traditional Polish cuisine is served cafeteria style and even the menu is in Polish. So make sure to bring either a guide along or a Polish phrase book to understand the list of items on the menu.
Some of the dishes one can look for, include Bigos i.e. Hunter's stew embellished with various kinds of meats and sausages, Klopsiki i.e. meatloaf stuffed with eggs, Å»eberka w miodzie (spare pork ribs dipped in honey), Golabki (Stuffed Cabbage) and Chłopski Posiłek (Peasants' Bacon and Cabbage).
On viewing the above list of food items, it might seem difficult to comprehend that Bar Mleczny cafeterias were started by the communists as dairy based and vegetarian only canteens.
After the downfall of communist reign, the prevalent Bar Mleczny cafeterias faced tough competition from other restaurants due to scarcity of funds. However, these were then preserved as relics and taken care of by the city authorities.
Here, a three-course meal and dessert would usually cost less than 10 zlotys that is nearly five to six times less than the price of a three-course meal, in any other restaurant.
Bar Mleczny Cafeterias are also called as slow food bars. This is attributed to the fact that the traditional meals prepared here have a long preparation time.
These bars not only preserve the marks of history but are a symbol of solidarity for Poles who still prefer to eat out at one of these bars than trying out new food at a McDonalds.
For any traveler in Warsaw who aims to try the authentic food of Poland, Bar Mleczny is just the right place.
A nostalgia of visiting your grandma's place with everything so old yet beautiful dawns upon you once you enter a Bar Mleczny Cafeteria. One needs to stand in a queue to place the order, collect the token number, wait for the number to be called and take the food served to the nearest vacant chair. Be seated anywhere and everywhere. Thus, the complexities of social behavior seem to evaporate in thin air and what remains is a subtle, warm experience of dining in a homely atmosphere. On the contrary, some people  believe that a few milk bars like the one in Srednicowy are dingy and stinking places where food hygeine is not given much importance. 
Equipped with the right attitude and traveler's spirit, a Bar Mleczny should definitely be in the list of must visit places in a traveler's book. Afterall, not aimless but the right journey is important to learn the ways of life that outnumber the lives of many. 
Image Credits: spolem-gss.com 
Bar Mleczny Cafeteria Review