Theme Restaurants In London
27 Jun 2011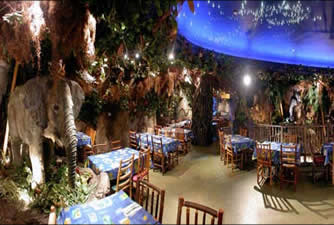 There are many theme restaurants in London which offer a theme-based experience to their patrons. If you are planning to have a fun meal in London then you need to pay attention to this.
From rock n roll memorabilia to wildness and liveliness of forest atmosphere, to sporting paraphernalia – you can experience everything at these restaurants.  In fact, the number of such restaurants is growing so fast that at times you may find it difficult to choose the right restaurant to spend an evening in. Read through this blog to find about some of the best theme restaurants in London and how these would suit your tastes.  
1- If you are a lover of wild and roaring fantasies then visit:

Rainforest Café

This wonderful café is present in the West End of London and is distinctive from other cafes due to its jungle themed settings. One can enjoy a fun and wild night with tropical fishes and animators. You can wish to enter into one of the themed rooms animated with real jungle inhabitants. It also ensures you an allergy friendly menu.
Address: 20 Shaftesbury Avenue, Piccadilly, London, W1D 7EU
2- If you are a lover of magic and fantasies then visit:

Abracadabra

This magic themed restaurant attracts people with its special charm. Several European and Russian menus are served at the restaurant. Dining can be best enjoyed in dining rooms, with casual seating arrangements and revolving dining tables. You can also choose to dine at themed rooms which have specific set of music arrangement systems.
Address: 91 Jermyn Street, Piccadilly, London, SW1Y 6JB, (020) 7930 3111
3- If you want to experience a Mediterranean charm then don't forget to visit:

Sarastro

This is a very vibrant restaurant serving Mediterranean food in London. The impressive decors of the restaurant pull you towards itself. The flamboyant dining space is complete with wonderful balcony areas and rich Mediterranean drapes. The restaurant has been bestowed with many awards since 1998 unto 2009.
Address: 126 Drury Lane, Covent Garden, London, WC2B 5SU
4- If you want to experience a Hollywood style dining experience then visit:

Tinseltown

The name of the restaurant just reminds of a glamor, charm and razzmatazz associated with Hollywood. The cuisine is mostly American and you can find different types of foods prepared according to likeness of Hollywood stars. The place also serves kebabs from fresh halals and is famous for serving most healthy and opulent varieties of milkshakes. This is one of the most visited themed restaurants in London.
Address: 44-46 St John Street, London, EC1M 4DF
5- If you wish to travel back in medieval times and get yourself drenched in wisdom of olden times then don't forget to visit

The Medieval Banquet London

Do you want to know what exactly dining like a king means then visit this restaurant. The Medieval Banquet London is known to serve medieval fare which was believed to have been enjoyed by King Henry VIII. You can't miss out on a perfection by which things are being carried out. Be it a dual fight or royal serving everything is done with systematic pace.  At times you may feel that the meals are little expensive on palette but we assure you that it is worth trying.
Address: Ivory House, St Katharines Dock, East Smithfield, London, E1W 1BP
Hope you will get back to us with more exciting reviews about these theme restaurants of London. 
Image Courtesy: media.toptable.com 
Theme Restaurants In London