Top Chinese restaurants in Las Vegas

5 May 2011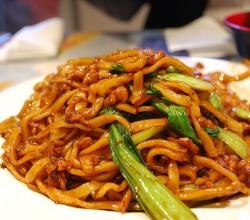 Top Chinese restaurants in Las Vegas has been a hit among both the tourists and denizens of the city as the belief is that --it is never a bad idea to treat yourself to some ever-favorite Chinese, while life treats you with some hi-life experience in Las Vegas. While you have the right cards with you or not you always win at these top Chinese restaurants in Las Vegas always, who have some real authentic Chinese treat for you.
Pearl Restaurant
MGM Grand Hotel and Casino
Pearl, a part of specialty dining at MGM Grand Hotel, serves authentic, and traditional Chinese that celebrates Cantonese and Shanghai cuisine. The décor, complements the purpose of the restaurants and gives Chinese dining feel, while a special Chef tasting menu adds to the divinity of experience. Try Spider prawn dumpling and minced chicken in lettuce wrap; main lobster fried rice or shrimp and scallops chowder.
Wing Lei
3131 Las Vegas Blvd
An elegant Chinese dining awaits you at Wing Lei that is capable in giving you a perfect evening with everything perfect—environ, ambience, service and authentic Chinese food. No wonder the restaurants features in list of top Chinese restaurants in Las Vegas. Crisp Shrimp toast with black and white sesame seed; Cantonese lobsters with scallions, ginger and sherry sauce can be great options for a real Chinese treat. Prices are high and well justified.
Shanghai Lily
3950 Las Vegas Blvd
At Shanghai Lily you will find genuine Cantonese and Szechuan delicacies at their best. The elegant décor and relaxed seating makes the place good for both formal and informal dining. You may gorge on ginger shrimp as you move towards the main course and treat yourself to some Mongolian beef then. The smooth environ and great food makes it really good for couples, who are on a look out for a good date or a pleasant evening.
P. F. Chang's China Bistro
4165 S Paradise Road
One of the top Chinese restaurants in Las Vegas, P F Chang's China Bistro brings some of the best Chinese food, while the décor, both indoor and outdoor, complements the Chinese taste. Extensive use of Chinese décor makes it a visual treat to be here, while every food is a must-try here. You can start with dynamite shrimp or dumplings.
Jasmine Restaurant
Bellagio Hotel
You cannot expect a more romantic dinner than at Jasmine with its garden and lake view, uninterrupring yet attentive service and some really good Cantonese, Szechuan and Hunan cuisine. The fountains brunch is quite popular among the guests here, where live-cooking stations. The brunch also includes American dishes for the local flavors. Peking style duck and roasted prime tenderloin are a few of most ordered dishes here.
With an array of delectable dishes in both fast food and gourmet, Chinese is definitely one of the favorite cuisine all over the world. If you don't feel so, it is a must for your to come to any of these top Chinese restaurants in Las Vegas. 
Photo credit: ifood.tv
Top Chinese Restaurants In Las Vegas