Top Indian Restaurants in Singapore

20 Apr 2011
Visit the top Indian restaurants in Singapore and make your trip to Singapore a spicier and more delicious  one. These top notch restaurants in this holiday destination offer a chnace to relish a divine dining experience. So if a trip to India is not on cards, but you are already dreaming and drooling over tandoori chicken and saucy curries, you may straight head to any of these listed top Indian restaurants in Singapore and pamper your taste buds with some amazing blends of spice, marinated meat and vegetable curries.
The Banana Leaf Apolo Restaurant
The Banana leaf Apolo Restaurant has it all –strong and remarking flavors, visually hot colors and ingredients that take care of your well-being and taste-buds equally. A relaxed family outing or a meeting with business client or a special occasion – it all calls for a special treat, which is pre-planned for you the Banana Leaf Apolo. Its signature Fish head Curry is the most popular dish, which was suggested, served, praised only to be ordered again during next visit. They serve both North and South Indian delicacies.
Shahi Maharani
The name means Royal Queen, so you know what to expect here. Royal treatment of the guest and a royal gourmet experience, just like the Kings and Queens of various provinces of India did. Shahi Maharani strives to serve the traditional and rich Indian cuisine to its guests, by following the recipes from yesteryears, when Maharajas ruled the country. It primarily serves North Indian delicacies. Tandoori Milawat—a mix of grilled chicken, fish, prawn and kebabs—is one of the popular dish in the special menu. The a la carte menu brings options of typical Indian snacks like pakoras, bhajias and chaat; while the lunch and dinner menu have choice of veg and non-veg grills or flavored meat like lahsuni jheenga (garlic prawn).
The Song of India
Luxury fine dining combined with spice and flavors of india, The Song of India, perfects it name by making dining a soulful act just like music. Set in a bungalow, the restaurant gives a special feel and relaxed ambience aptly needed to enjoy the food in right company. Innovative Indian cuisine wherein you find the rich yet light food served beautifully to appeal to all your senses. The place is the first to introduce Lucknawi Royal cuisines, following recipes that were relished by Nawabs of Lucknow. A carefully selected wine-list completes the experience.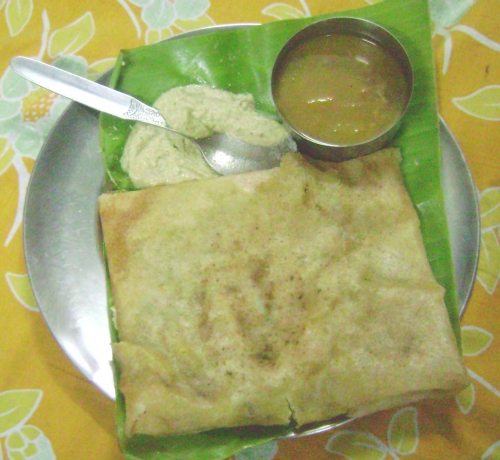 Komala Vilas restaurant
Opened in the year when India got its Independence, 1947, Komala Vilas restaurant has been serving authentic Indian cuisine from both North and South to its guests. With time they have successfully ventured into Indo-Chinese cuisine too. However the focus is on South Indian dishes, which is served traditionally on a banana leaf. The prices are humble and alluring enough and the food is good too. A South Indian Rice Meal includes rice, vegetable, curry, sambhar, along with other add ons like pickle, papad (thick chips). A range of Dosai ( a south Indian delicacy) is a good option for both light snack or complete food.
Dive into the world of royal dining with these top Indian restaurants in Singapore.
Photo credit: ifood.tv
Top Indian Restaurants In Singapore