5 Top 10 Restaurants In Birmingham
24 Jan 2011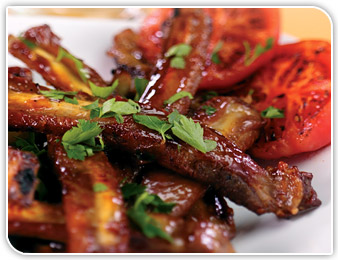 Check the list of 5 Top 10 Restaurants In Birmingham and pick your choice. Enjoy!
Highlands Bar and Grill: The Highlands Bar and Grill, the first among 5 top 10 restaurants in Birmingham, is an absolute genuine institution in Birmingham, which celebrates a variety of cuisine ranging from American, French, European, Fusion and Southern - all on one table. Housed in a 1920s Spanish revival building, tourists come to visit this restaurant to have its great crab cakes, roasted pork tenderloin, mustard greens and blackstrap molasses. If you want to celebrate one of your special occasions, visit Highlands Bar and Grill- its high-quality service and excellent food will make the dining experience memorable one. Waiting is long so book in advance for this exotic pleasure.
Dreamland BBQ: Decorated with historic signs, old photos and rustic décor, Dreamland BBQ was made in an effort to recreate the original Jerusalem Heights location. Opened in 1958, Dreamland has been serving Birmingham hickory fired taste with white bread with the same originality, putting it on the list of 5 top 10 restaurants in Birmingham. Some of the other attractions are Alabama style spare ribs, hickory-smoked sausage and pulled pork. Food is excellent and take-away facility is also available. The average main course is as cheap as $10.
Daniel George restaurant & bar: Welcome to one of the best restaurants in Birmingham – Daniel George restaurant & bar – a place, which has sophisticated and charming atmosphere. Its bar has all varieties of wine you can ever expect at such restaurants. Great varieties of American, European, French cuisine with live entertainment simply makes any diner's day awesome. Don't miss Daniel George's delicious Gulf seafood dishes and creative American numbers. Starting average main course at $22, count Daniel George at number three in the list of 5 top 10 restaurants in Birmingham.
Café Dupont: Opened in 2003 by chef-owner Chris Dupont in downtown Birmingham, Café Dupont is well received by all its visitors. Tourists adore its original hardwood floors, high ceilings and the weathered brick walls, which shows its century-old charm. Dupont is also famous for using locally-grown ingredients in most of its menus like grilled Georgia quail with andouille sausage, Duroc pork chop with sweet potato soufflé, Painted Hills flat iron steak and Yorkshire pudding. This is one of the 5 top 10 restaurants in Birmingham serves American, Southern and New American cuisine at an average price of $27.
Jackson's Bar & Bistro: If you are looking for some relatively cheap eatery that serves eclectic and traditional European cuisine, come to Jackson's Bar & Bistro. The main course starts at as low as $15. Crab rangoons and wood-fired pizzas are one of its attractions that lure diners from across the city. Have a few drinks and friendly conversation here before moving forward.
Image Credit: sanpablocity
5 Top 10 Restaurants In Birmingham