Top 10 Cajun Restaurants in Texas

24 Jan 2011
The top 10 Cajun restaurants in Texas are scattered all over this massive state. Here are some of the best.
1. Louisiana Longhorn Café - 200B E Main St, Round Rock, TX
I would definitely recommend this café in the top ten Cajun restaurants simply because of the outstanding flavor of the food. They use a mix of spices that are simply wondrous to taste, the menu has great choices and the desserts are fantastic.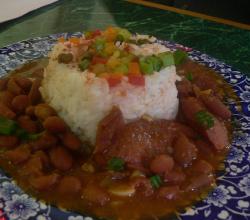 2. Gators Croc & Roc - 1714 N. Market St, Dallas, TX
This gets featured as my second favorite amongst the top 10 cajun restaurants in Texas. This is a casual dining place; with attractive décor. The menu has ample amount of Cajun dishes and a must try is the red beans and rice.

 
3. Johnny G's - 1425 Justin Rd, Lewisville, TX
Featured third in the top 10 cajun restaurants is Johnny G's. This place is a little different from your average Cajun place as they experiment with some fusion cuisine. They have Italian and Cajun mixed together to create some very unique flavor.
4. Cypress Grill - 4404 West William Cannon Dr # L, Austin, TX
Making it fourth on the best Cajun restaurants in Texas is Cypress Grill. The fried seafood plate with shrimp and oysters is delicious. Their weekend breakfast is definitely must try, they have a lavish menu with Bloody Marys and Mimosas on the menu.
5. The Alligator Café - 4416 Live Oak Street, Dallas, TX
Awesome is one word to describe this place. Try some of their cup of alligator and crawfish gumbo or their Bayou burger. This place gets really busy so call ahead.
6. Razzoos Cajun Café - 12770 Southwest Fwy, Stafford, TX
Razzoos comes up sixth on my top ten Cajun restaurants in Texas. Try their Craw daddy fondue dip. Their seafood gumbo is great along with stuffed fish. Another dish I loved was the craw fish tails in cheesy cream sauce with cajun seasoning.
7. Margaux's A Restaurant by Design - 150 Turtle Creek Blvd, Dallas, TX

 
This place has a great New Orleans feel about it. They have great tasting food served in a very stylish way. They also provide catering services so if you're planning to have a  party this would be a good place to consider. From their menu try the deep fried quails with country cream gravy

 
8. Mardi Gras Grill - 1200 Durham Drive, Houston, TX
This restaurant is considered a favorite in Houston. Try the Seafood Courtbouillon, Chicken & Sausage Jambalaya and the Crab Boulettes. The crawfish is gigantic and wonderfully spiced.
9. Dodie's Cajun Restaurant - 2076 Summer Lee Drive, Rockwall, TX
Ninth on the top ten Cajun restaurants in Texas is Dodie's. Dishes to try here are the Shrimp and Cat Fish Po Boy and the crawfish fettucine alfredo. 
10. BB's Café - 2710 Montrose Boulevard, Houston, TX
One dish I would ask you to try here is the craw fish tails in cheesy cream sauce with cajun seasoning. Avoid rush hour between 12 to 1 pm as they get pretty busy during these hours.
I hope you enjoy these top ten cajun restaurants in Texas. Bon Apetit. 
Images - ifood.tv
Top 10 Cajun Restaurants In Texas