Best Indian Restaurants New York

15 Jan 2011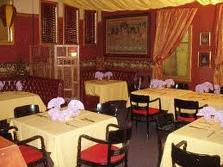 What a pleasure it is to have food of your country in foreign land! I am talking about Indian restaurants in New York. New York is a place to fine, dine and merry. One can get food of almost all cuisines at New York. Listed below are some of the top Indian restaurants in New York-
Darbar- This restaurant is located right in the heart of New York City. The place offers  great cuisine and a perfect ambience. The lunch buffets are amazing and serve a variety of lamb, sea food, chicken dishes and many other scrumptious Indian vegetables and salads.
Salaam Bombay- Salaam Bombay is a famous restaurant at New York, especially known for its wide Indian menu covering almost all the regions of India. The spices added give the feel of being at home. The restaurant is located at lower Manhattan and is one of the eating joints not to be missed. The music of sitar adds to the beauty of the place and gives an extra Indian touch to the food.
Aangan – As the name suggests, the place is an extraordinary real Indian "courtyard" restaurant, located on the Upper West Side of Manhattan. A perfect place to dine, Aangan offers authentic Indian food, catering to every region. The hospitality is incredible and follows the Indian saying "Atithi Devo Bhava". The prices are moderate and lads, chutneys to delicious vegetables and mouthwatering breads; Aangan makes the eating experience wonderful.
Devi – Situated between 5th avenue and Broadway, Devi offers an amazing dining experience. Great lighting makes the ambience romantic and makes it perfect for celebrations. One can enjoy authentic Indian food at very reasonable price here. A three course lunch including appetizers like a like salmon-crab cakes to desserts like Pistachio Kulfi, with tandoor grilled lamb chops in main course costs up to $25.
Tamarind- Where else will you find stark white walls, pendant light effects, strained hardwoods--- at Tamarind restaurant in New York. This high end, fine dining restaurant is a place for everyone. The menu offers a variety of Indian food including dishes from all states of India. The spices and seasonings make the food stand apart. So, if you want to treat your taste buds with delicious kebabs, succulent non vegetarian foods or some yummy daals--- Tamarind is a place to be.
Next time you visit New York, do not miss the dining experience at these top Indian restaurants.
Image credit- www.juliebolder.com
Best Indian Restaurants New York