Top 10 New York Grills

14 Jan 2011
New York, the city that never sleeps has quite a lot to offer to foodies. Given below are the top 10 New York grills that you may enjoy. New York grills are the best place to be to enjoy delicious grills. New York grills are the most sought after places to e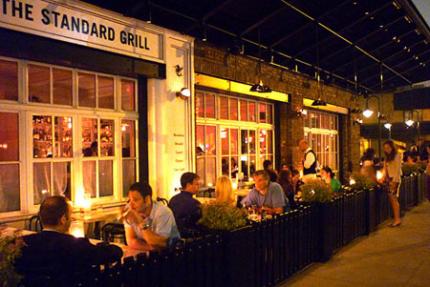 at in New York.
New York Grills – An Overview  
Blue Water Grill – enjoy the Chilean sea bass and lobster with mashed potatoes here. The place is lively and known for its seafood menu.

Tribeca Grill – located at the De Niro's Locanda Verde, the grill offers an Asian fusion ambiance. The grill is also known as the Greenwich Grill or GG. Food is good and ambiance very warm and welcoming.

Knickerbocker Bar and Grill – place is known for its t-bone steak. The atmosphere in this New York grill is family friendly and is one of the popular places to eat in New York. The prices are reasonable and guests can enjoy the live jazz music on Fridays and Saturday nights.

Sea Grill – located at the Rockefeller Center, this one of the more popular New York grills. The seafood served here is excellent and guests get to chose from an impressive raw bar of clams, oysters, shrimps, etc. Try the cured salmon belly tartare with black salt and dill.

Lincoln Park Grill – popular grill where people love to try the wines and the various seafood dishes on the menu.

Bobby Van's Grill – a traditional American grill that has traditional classic elements. This New York grill is run by four partners and the place has been awarded the Tom Horan's American Top Ten Steakhouses three times. Pastas, salads and fish are the other dishes that can be tried while here.

Ear Inn Inc – lovely home cooked recipes and well stocked bar keeps you coming back here for more.

Ginger Man – this is believed to be the first multi-tap bar in America. Nice place to hang out and enjoy with the guys.

Arctica Bar and Grill – spacious and perfect, the New York grill is perfect for family and friends. The staff is friendly and the food delicious.

Gotham Bar and Grill – stunning décor and delicious food welcome you in this New York grill. The bar and grill has more than 25 years experience in the field and the specialty combination of seafood and champagne is awesome here. Do not miss the deserts too!

 
New York grills are perfect to relax and enjoy the evenings with live music and some good mouth watering dishes!
Image courtesy:blackbookmag.com
Top 10 New York Grills