Top Ten Restaurants In Chicago

14 Jan 2011
Chicago, the third largest city in the US has many fine dining options and eateries. The windy city boasts of some of the best restaurants around and if you are looking for a perfect place for a celebration (read birthday, anniversary, date), then here is the list of Top Ten Restaurants In Chicago, to help you make the right choice.
TallGrass
The restaurant offers French cuisine, and is famous for its remarkable food and selection of top wines. There is grass-fed and the food is believed to be totally organic. Bonus is that the rates are reasonable and you can have a good time without shelling out much money.
1006 S State St
Lockport, IL 60441
Soul Vegetarian East
If you are looking for one of the best restaurants in Chicago for vegetarian food, Soul Vegetarian certainly tops the list. The restaurant's motto is to serve foods that are in harmony with earth. Everything here is prepared in-house and right from scratch, including the tofu! The restaurant serves healthy vegetarian food, which is delicious, from their barbeque sandwiches to the fried onion rings and cauliflower.
205 E. 75th St.
Chicago, IL 60619
Alinea
The restaurant boasts of Chef Achatz, who is a world renowned celebrity chef. Alines offers American cuisine and is considered best restaurants in the world. Some leading dailies have also recognized Alinea as one of the top restaurants in Chicago. The must have on the menu includes The Black Truffle Explosion, which is a signature dish by Chef Achatz. This is a must visit restaurant (if you have enough money to spare) for a fine dining experience
1723 N Halsted St
(between Concord Pl & Willow St)
Chicago, IL 60614
Players Club
Want to taste some authentic food from Eastern Europe? Then head straight to the Players Club, which is essentially a sports bar, but a great restaurant too. The house ranch chicken salad (which would be the blandest pick most elsewhere) is sumptuous and the seafood pasta (which includes shrimp and calamari in white garlic sauce) is to die for.
2500 N. Ashland Ave.
Chicago, IL 60614
Topolobampo
If Mexican cuisine is on your mind try Topolobampo. It serves the best Mexican food in the whole of Chicago.Chef Rick Bayless is celebrated as the best chef serving up high-end Mexican food in the Chicago.
445 North Clark Street
Chicago, IL 60610
Japanese Bowl House

Next on the list of top ten restaurants in Chicago, is the Japanese Bowl. The name obviously suggests that the restaurant serves authentic Japanese cuisine. Japanese Bowl serves some Japanese-Korean fusion dishes as well. They offer a nice selection of Korean stews, bulgogi, and kalbi dishes along side their Japanese menu offering diners a chance to experience the flavors of the two cuisines.
1921 Algonquin Road

Rolling Meadows, IL 60008
Vie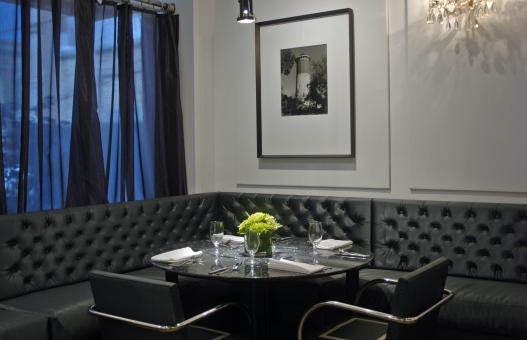 Vie serves the contemporary American cuisine and Chef Paul Virant combines art and cuisine and is said to utilize the products of local farmers. The dining room and lounge reflect a classic French style with an American point of view offering plush amenities and a wood-burning fireplace.
4471 Lawn Ave
Western Springs, IL 60558
Hema's Kitchen
If you are looking to dig into Indian cuisine, then Hema's the place for you as this is the best restaurant in Chicago for Indian food. Juicy tandoori chicken marinated in a bath of spices, creamy boneless chicken in gravy, buttery pan-roasted potatoes, served with rice or the Indian bread tastes heavenly. The place is not very big, but is cozy and offers excellent service and good food.
Location: 2439 W. Devon Ave
Chicago, IL 60659
Carlos
Carlos is a gourmet dining restaurant serving contemporary French cuisine. The menu is incredible and food is excellent. The restaurant is relatively small which makes for an intimate environment. You must visit this for a truly memorable dining experience.
429 Temple Ave, Highland Park
Chicago IL 60035
Cemitas Puebla
The restaurant specializes in authentic Poblano cuisine. The restaurant serves some lip smacking Poblano sandwiches which are not garnishes and have just the perfect amount of avocado and cheese. The service is excellent and the staff extremely warm including the owner.
Location: 3619 W. North Ave.
Chicago, IL 60647
Image Credit: farm4.static.flickr.com, resources.zagat.com
Top Ten Restaurants In Chicago