Dussehra Food Court At Ram Lila Grounds In Delhi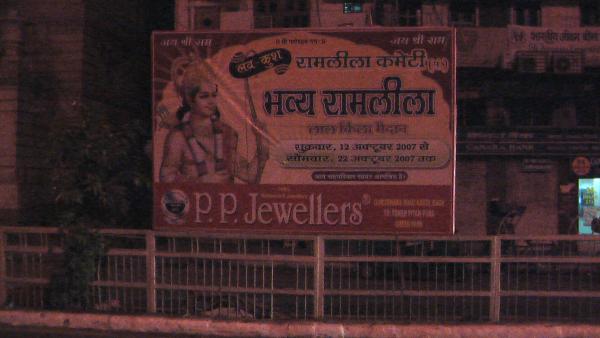 For those who don't know,  Dussehra is a 10-day-long Hindu festival celebrated to mark the victory of Lord Ram over the evil Rakshas Monarch, Ravan. The final day marks the death of Ravan at the hands of Ram.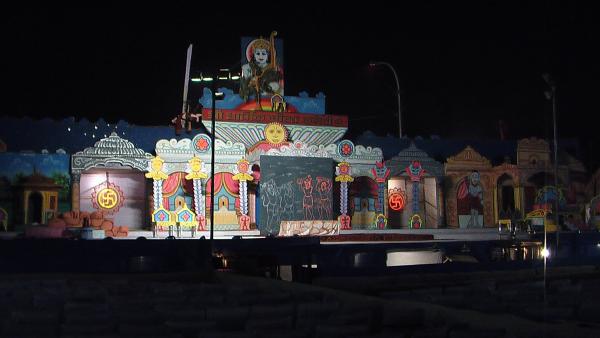 "Ram Lila" is a play based on Ram's life and principles, performed on different scales in almost every other colony in India. It is usually performed in parts over 10 nights.
During one such festival (on the 9th night of Dussehra), a very good friend of mine, Alok, forced me to accompany him to the Ram Lila Grounds near the Red Fort. Arriving at midnight, we were a bit late for the play but perfectly on time to savor some of the best street food that Delhi has to offer.
We parked our car at Chandni Chowk and walked down to the grounds. On our way, we say a banner advertising the performance of 'Ram Lila' in the vicinity.
Immediately after entering the Ram Lila Grounds, we saw the 'Ram Lila' stage, on which the final act of the play was to be performed the next day.
The empty chairs in front of the stage. Beyond the ground is where all the stalls are.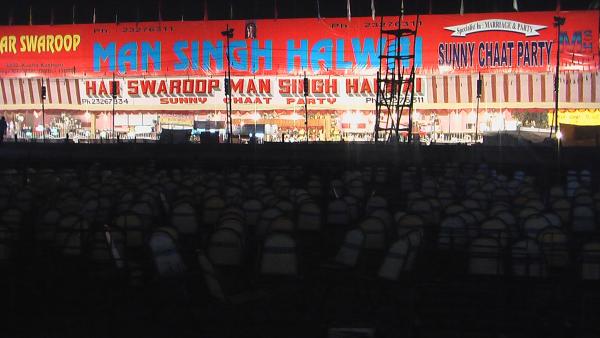 During the 10-day-long mela , hundreds of thousands of visitors throng these stalls.
We didn't go with a typical 'starter'. We just dig into whatever came our way. While Alok started with 'Pav Bhaji' and found it to be better than the 'original' he had eaten in Mumbai. I could not resist a bite and I couldn't agree more...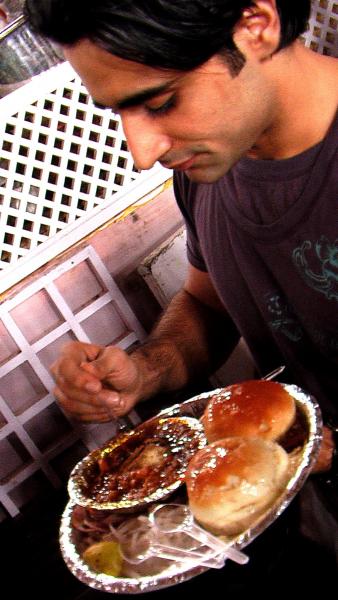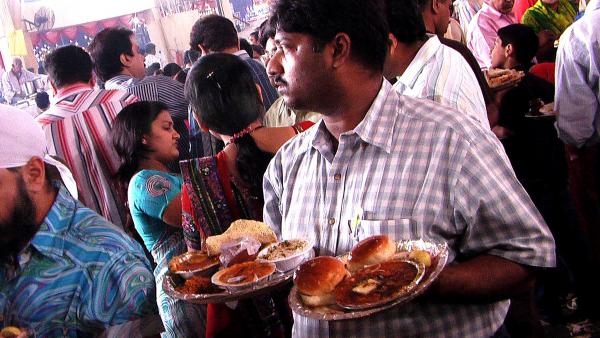 We move on to 'trying' a plate of almost everything...
'Aloo Chaat' - Fried potato wedges, sprinkled with spices.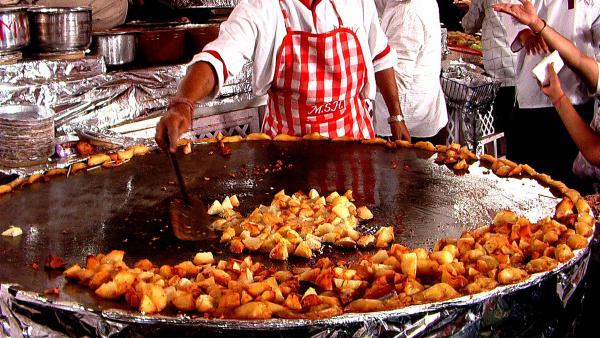 The most popular street snack in Delhi - Aloo 'Tikki' or potato cutlets.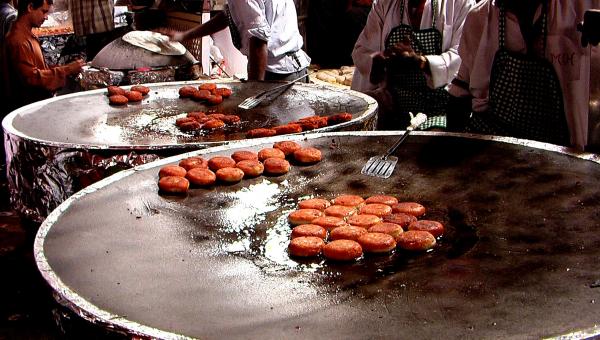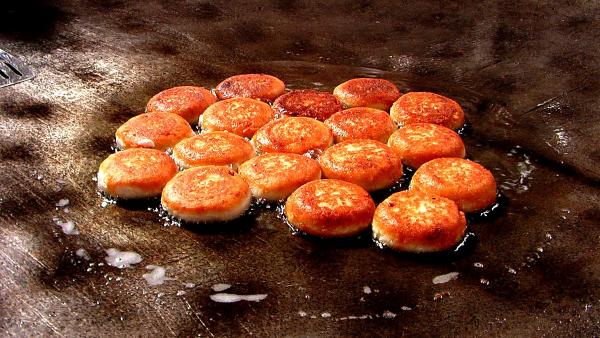 'Chilla' - made from chickpea flour.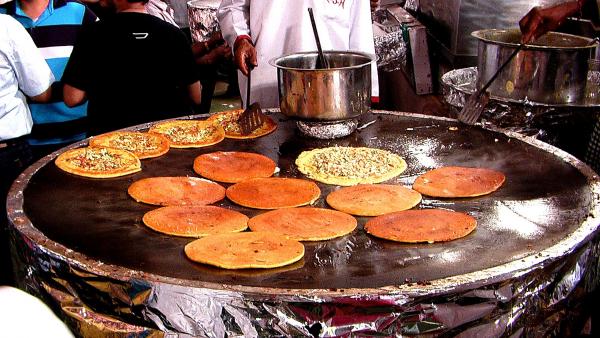 'Veg Keema'! (Minced Soya Curry)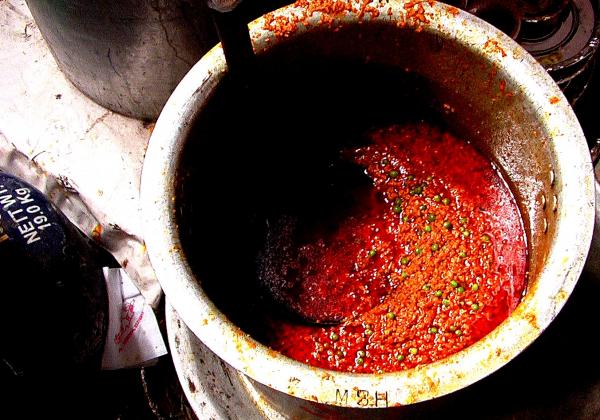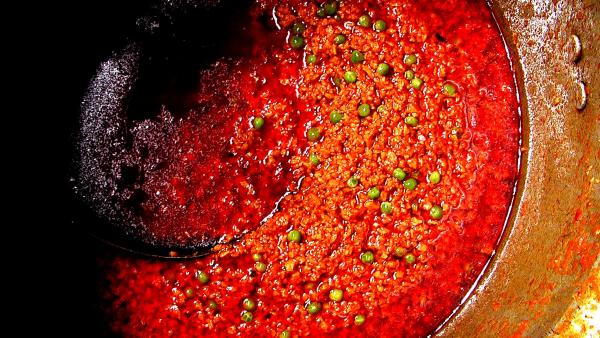 One of the many fruit cum juice stalls.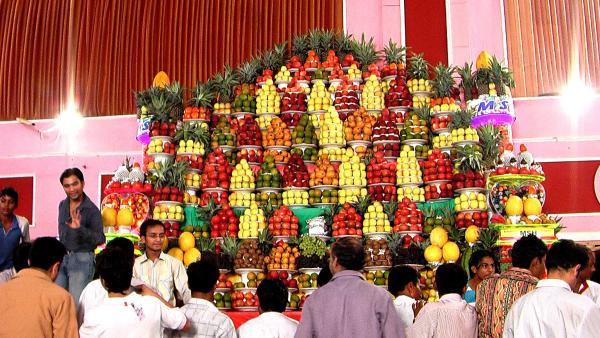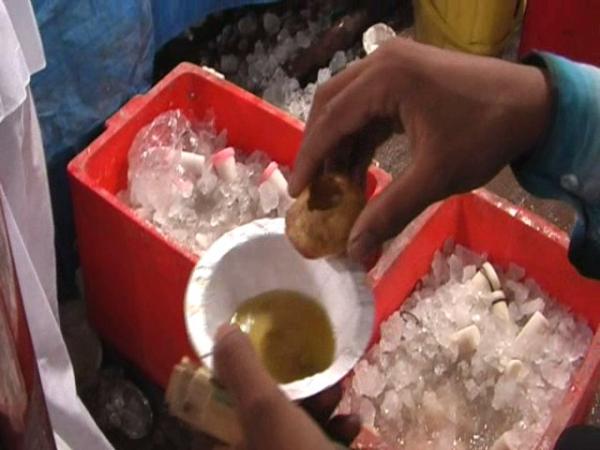 Well...with the sheer number of people around you, this is what can happen to anyone...a case of 'mele mein bichhad gaye'...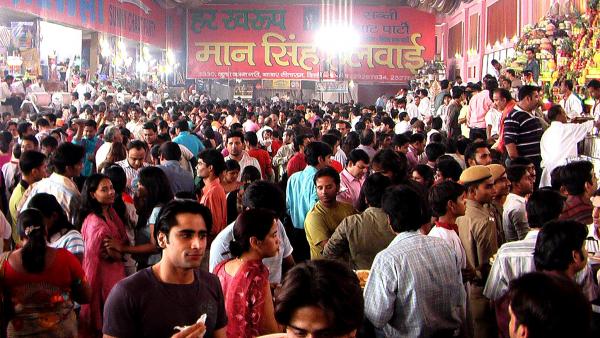 An ice cream...actually, a heap of ice cream shavings topped with 'anaar' (Pomegranate seeds).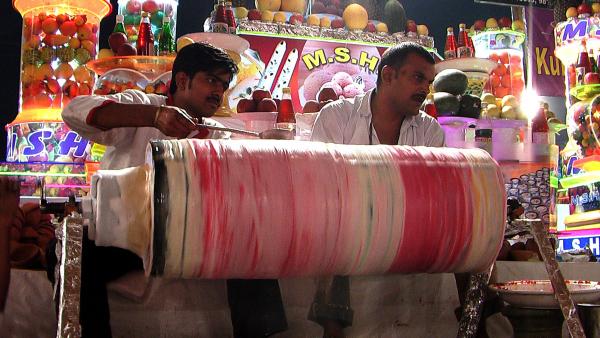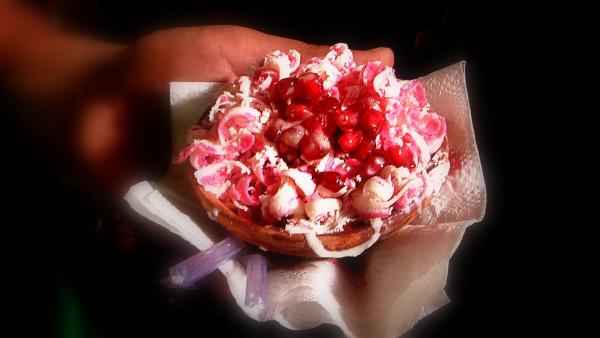 We tried all of this and also went for a double (at times, triple) helpings of a few. There was also a lot of other usual fare (various chaats, kulfis...), but I guess we were done for the day.
On our way back to the car, we spotted these actors dressed as Goddess Kali and Lord Shiva, waiting for their entry on to the stage at another venue.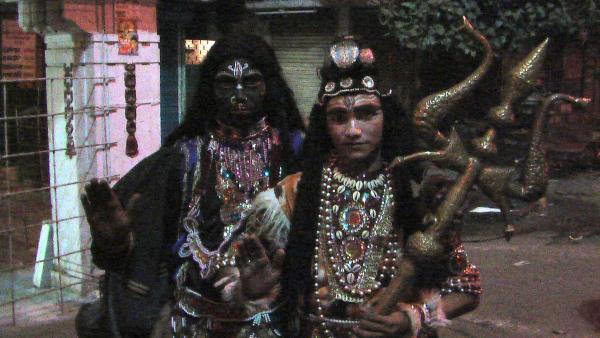 Children enjoying an open-air 'late night show' of the latest Bollywood flick.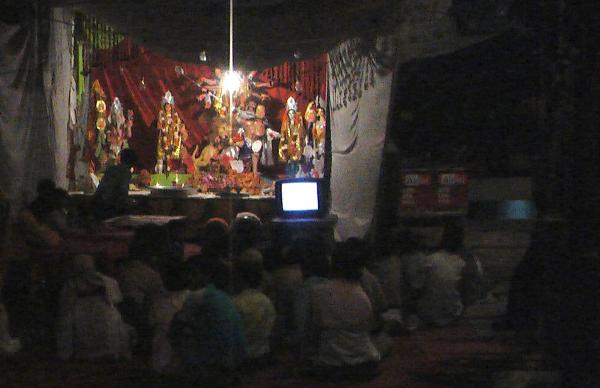 In the premises of the Red Fort is a mela (fair) on in full swing (pun intended), with huge statues of Ravan & his equally evil brother, Kumbhakaran, in the centre. Tomorrow, the actors playing Lord Ram and Lakshman shall vanquish Ravan's army. The statues will go up in flames. Good will triumph over evil. The legend of Ram will live on...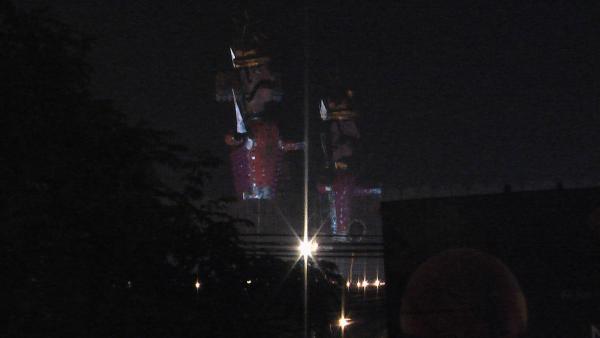 20 days later we'll all celebrate Diwali (the return of Ram to his home in Ayodhya, after a 14 year exile in the forest). Another festival, another feast! 
Dussehra Food Court At Ram Lila Grounds In Delhi