Top 10 Middle Eastern Restaurants in New York
21 Oct 2010
Read this blog on the top 10 Middle Eastern Restaurants in New York to find out the best this city has to offer in terms of West Asian delicacies. Middle Eastern cuisine is known for its versatility, interesting ingredients and aromatic spices which add a different kind of spark to the dining table. So, if you are living in New York and looking for hummus, baklava, falafel, tahini, tabouleh and more, here is my guide on the top 10 Middle Eastern Restaurants in New York to pick from –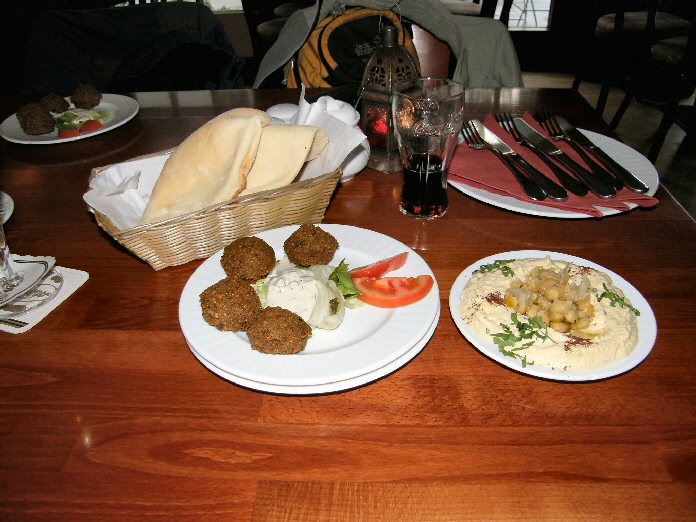 #1. Tanoreen – Located in the 3rd Avenue of Brooklyn, across the Bay Ridge, Tanoreen has been in popular business since 1999. Opened by Chef Rawia Bishara, Tanoreen offers mouthwatering Middle Eastern specialties like shepherd's pie, baklava, baked eggplant and okra in tomato sauce.
#2. Ali Baba – Located in the 34th street, Ali Baba is a miniature Middle Eastern world in itself with its hardwood flooring, upholstered banquettes and colorful walls. There are  also talented traditional belly dancers to entertain the guests. The best picks of Ali Baba are undoubtedly the lahana dolmasi, manti and pepper steak.
#3. King of Falafel and Shawarma – Located in the Astoria neighborhood, this is one restaurant in NY, which is loved best for two things – the perfect "hookah" atmosphere and the halal food! The falafel is also a must try in this Broadway eatery.
#4. Mamoun's Falafel – Adorning the MacDougal St, Mamoun's Falafel happens to be the star restaurant in Greenwich Village catering to the Middle Eastern cuisine fans. With their phenomenal shawarma, incredible falafels and juiciest kebabs, there is no doubt why this restaurant should feature in any list of top 10 Middle Eastern Restaurants in New York.
#5. Wafa's – This Forest Hills restaurant is a perfect place for feasting on a proper Middle Eastern lunch. The most delicious picks of Wafa's are lamb shawarma, falafel, kibbe, meat/cheese/spinach pies and baklava.
#6. Hummus Place – Standing as an address of pride in St. Marks Place, the Hummus Place is a restaurant that makes you feel like at home. People say, the pita bread served here tastes out of the world! I myself went to this restaurant and found the falafel really fresh and delicious. O yes! Do also try out their mushroom hummus, mint tea and the Middle Eastern style health salad.
#7. Cafe Mogador – No list of top 10 Middle Eastern restaurants in New York will ever be complete without including this restaurant. It is not only the delicious food of this place but also the prompt customer service, which makes Café Mogador so popular. Some of the most delicious picks from this eatery would be the lamb chops, lamb tagine, halumi cheese and goat cheese ravioli.
#8.  Kabab Café – One of the most popular restaurants in the Astoria neighborhood, this Steinway Street restaurant deserves all the mention in this list. If you are trying out brains for the first time, this is the place to start with. The lamb brains here are d-e-l-i-c-i-o-u-s!
#9. Yemen Cuisine – Located on Cobble Hill's Court St, Yemen cuisine is an eatery which is best known for its roasted lamb and spicy white kidney beans. The other recommended delicacies to try out here are salta salad, chicken zorbian and fatah.
# 10. Karam Restaurant – This restaurant is definitely a favorite in the Bay Ridge neighborhood and deserves on its own right, to be on the list of top 10 Middle Eastern restaurants in New York. Most eaters here revisit this place for its chicken shawarma, tahini and tabbouleh.
Picture Source: humus101.com
Top 10 Middle Eastern Restaurants In New York