How To Find Spanish Food In New York City
19 Oct 2010
Being a city for the food enthusiasts, it is not at all too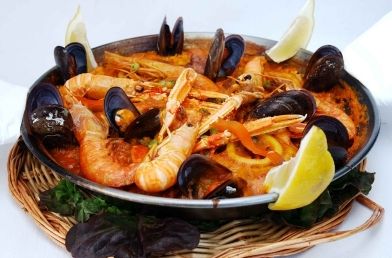 difficult to answer - how to find Spanish food in New York City. Since Spanish is one of the favorite cuisines for the city dwellers and the city travelers, you will get several choices while finding Spanish food in NYC.
Meson Sevilla
344 West 46th Street, New York, NY 10036; (212) 262-5890
When you want to enjoy the authentic flavor of Spanish and other Mediterranean cuisines, you should head towards Meson Sevilla. The food here is prepared with freshest ingredients in most hygienic way. You can enjoy a romantic dinner as well as arrange a party in the private party room.
La Zarza
166 1st Avenue, New York, NY 10009; (212) 477-1111
Being among the latest addition in the list of Spanish restaurants of New York City, this has won several acclamations from the food lovers. The restaurant basically serves authentic Spanish and Argentinian cuisines. The menu contains a large number of options featuring original ingredients, flavors and culinary styles.
Sangria 46
338 West 46th Street, New York, NY 10036; (212) 581-8482
Set in a contemporary and informal atmosphere, this restaurant offers some of the most delectable cuisines from the country of Spain. It also has a wide range of choices for seafood and tapas. Best Spanish delicacies can be enjoyed along with rarest wines and sangria, being in this restaurant.
Toledo
6 East 36th Street, New York, NY 10016; (212) 696-5036
Situated in the heart of midtown Manhattan, this restaurant is considered to be among the most premier Spanish restaurants of the city. For more than 33 years, this place is offering authentic Spanish dishes prepared by expert chefs to their guests. 
La Fonda Del Sol
200 Park Avenue, New York, NY 10020; (212) 867-6767
This is another premier spot of Spanish food, which was first opened during the 60's. Till then, it has been a favorite location for many local foodies to taste authentic Spanish and Latin cuisines.
Yerba Buena
23 Avenue A, New York, NY 10036; (212) 529-2919
Being comparatively new addition to the Latin and Spanish cuisine-serving restaurants of the city, this has been quite famous choice for many. The main attraction of this restaurant is the open kitchen, where you can see the cooking procedure of your favorite foods from Spanish or other Latin American culinary styles.
Flor de Sol
361 Greenwich, New York, NY 10013; (212) 334-8087
Traditional as well as contemporary Spanish dishes are available in this restaurant. The expert chef of this restaurant keeps on experimenting with various authentic spices and ingredients to discover innovative recipes. The restaurant serves extensive list of tapas items and full service dinner. The signature dish, Paella Valenciana is a must try for the new comers.
Alcala
342 East 46th Street, New York, NY 10017; (212) 370-1866
Located near the UN building this restaurant is ideal for an intimate dinner. This restaurant serves specialty dishes from the Basque region of Spain in a romantic and casual atmosphere.
Xicala
151B Elizabeth Street, New York, NY 10012; (212) 219-0599
It can be your first date or celebration with your intimate friends, the ambiance of Xicala is perfect for any occasion. The wine and tapas bar of this restaurant needs special mention. You can taste large varieties of tapas items and more than 40 varieties of wine, by sitting in the relaxed and cozy environment of the restaurant.
Mercat
45 Bond Street, New York, NY 10012; (212) 529-8600
Other than the authentic Catalan dishes, here you will get the opportunity to taste the Spanish wines. The restaurant serves only Spanish wines giving more priority to the Catalan wines.
Image Courtesy:top-tour-of-spain.com
How To Find Spanish Food In New York City