How to Order at a Sushi Restaurant When You Don't Eat Fish
26 May 2010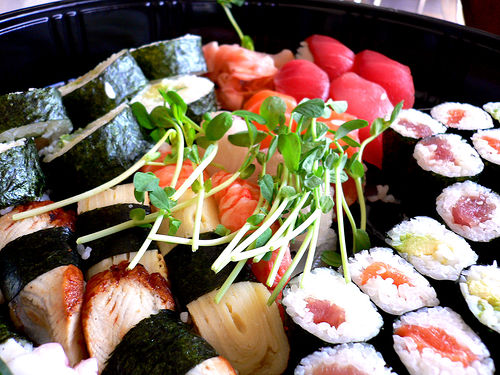 The craze for sushi restaurants is increasing day by day in almost all sections of society. And if you are missing all the fun just because you do not eat fish, then I have a very simple solution for you. Yes, there is a lot more that you can order at a sushi restaurant and have fun with your friends even if you don't eat fish.  Just follow these simple instructions and enjoy the sushi restaurants even if you don't eat sushi.
1. Relish the soup: The first thing that will be served to you in a sushi restaurant is the delicious Miso soup. Enjoy the soup as it is not made up of fish. It is basically a delicious mixture of fermented soy and barley.   
2. As your friends start ordering the regular sample platters such as tempura, you need to look out for something non-fishy and interesting. Go for edamame that is basically a steamed version of soy beans. This is the one that may sound little boring at first but as soon as you start eating, you will not easily stop munching. 
3. Always be careful while selecting the appetizers as it is always difficult to make out between main course and side dishes at a sushi restaurants. You can anytime go for gyoza that is a type of ordinary potstickers. Agedashi is also a great choice for those who love tofu.  
4. Always choose from the few vegetarian options available such as cucumber roll and vegetable tempura roll. Don't ever get lured by the California roll just because it is made of avocado. it contains crab meat as fish.
5. Last but not the least is the desserts on the menu. Almost all sushi restaurants are famous for serving delicious ice creams of different flavors. Choose from any of your favorite flavors and enjoy the meal.
So, next time never object whenever your friends plan a party or get-together at a sushi restaurant, as now you know how to order at a sushi restaurant when you don't eat fish.
How To Order At A Sushi Restaurant When You Don't Eat Fish